First-ever VISTA summer science camp makes big splash
Virginia's beaches are in trouble. Swimmers are getting sick. The water looks ugly. The governor's scientists have no idea what's wrong.

Then the governor hears about a two-week convention of young scientists – very young scientists – at William & Mary's School of Education. He issues a desperate plea for help.

With that, 16 fourth- and fifth-graders from Williamsburg-James City County and York County schools got to work. They were part of the first-ever Virginia Initiative for Science Teaching and Achievement (VISTA) project, funded by a $28.5 million grant from the United States Department of Education. Sharing the grant with the College are George Mason and Virginia Commonwealth universities, with Virginia Tech and the University of Virginia providing support.

William & Mary professor Juanita Jo Matkins, VISTA principal investigator at the College, co-authored the grant proposal that brought 12 elementary-school teachers to campus from June 27 to July 22 to learn how to teach using a problem-solving, inquiry-based platform. Two of those weeks were spent with students in a summer science camp.

The fictional governor's plea for help was just one part of a realistic premise the teachers wrote for the camp.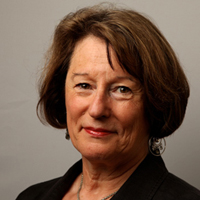 "While we are encouraging teachers to be creative and have fun with their teaching, we are also teaching teachers to plan science lessons where kids do the things scientists do," Matkins said. "Given a problem or an issue, scientists have to determine what questions are important, and how to find answers to those questions. Then scientists do what they need to do – including investigations – to move closer to possible solutions. By planning and teaching the camp, the elementary teachers in VISTA have ownership of the camp lessons and they also gain practice in planning really, really rich science lesson."
One reason for the VISTA project is the need expressed at the state level for an increased number of students going into science, technology, engineering and math (STEM) majors in college, as epitomized by Gov. Bob McDonnell's recent call for teachers to emphasize careers in STEM. There are several reasons for focusing on trying to boost those numbers, Matkins said.
One is economic. The gap between Chinese students entering STEM careers and Americans is vast and growing. These STEM students are innovators, company-starters, economy-drivers.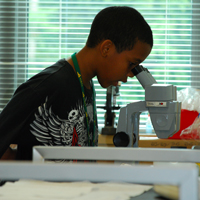 Another reason is security. The technology that helps keep us safe is science-based.
A third reason is a need for general science literacy. The adults in our future – children of today – will need to understand complex scientific issues. Matkins named the current global warming topic as one aspect of science that illustrates the need for a more science literate generation.

"We believe if we provide an experience close to what scientists do that it has the potential to be the richest experience these kids and these teachers can have," Matkins said. "At its best, science is based on evidence, yes, but also is creative in many ways. When these campers determined how to perform an experiment to test the quality of water, they were creating a way to answer a question.

"Teachers and campers were surprised to discover how creative science really is! They also learned the importance of evidence, and of collaboration with other scientists.  The teachers really learned these ideas thoroughly while teaching the camp. Ask a professor here at the College – the best way to learn something is to have to teach it!

"When we hold the bar high, kids reach up and grab it."

The children came from schools with a high percentage of free- and reduced-lunch programs, as well as households where English was not the primary language. After being "sworn in" as agents of the "FBEI" – Federal Bureau of Environmental Investigation – students were divided into four teams and tasked with deriving experiments that would solve the beach problem.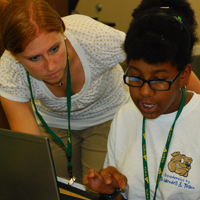 "Before, there was a lot of me telling the kids information," said Jennifer Tull, a sixth-grade teacher at Richneck Elementary in Newport News. "I told them how to do experiments, hoping to get a certain result.

"With this method, kids develop the experiments and whatever they get, you can ask, 'Why do you think that happened?' or 'What could you do to change it?' They're learning from each other, too, student to student."

In Tull's lessons, the "agents" decided to look at turbidity (the cloudiness of water) and the impact of dissolved oxygen, and helped come up with the experiments. They measured turbidity and dissolved oxygen in different containers – one with "plain" water from Lake Matoaka, one with mud in the same kind of water, and one with water, mud and plants.

A big lesson learned: You need oxygen in the water. The Chesapeake Bay has "dead zones," which means there is little to no oxygen. Plants and animals can't survive. The experiment showed the children that plants in water help increase dissolved oxygen and increase the number of animals.

"I learned a lot about science, too," Tull said with a chuckle.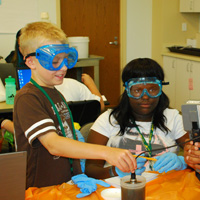 Karen Vieira led the campers in studying the impact of reef balls and oysters on water cleanliness. In short, reef balls are homes for oysters, which are natural filters of water. The students examined two buckets of brackish water, one with oysters and one without. Within 24 hours, the water with the oysters was clear.

The students then decided they would make miniature reef balls, and design guidelines were explained. The reef balls had to sink and stay at the bottom of the water – not moved by wave or tidal motion -- to be effective.

The students put their knowledge to use when the fictional governor argued that he had a confidante who didn't believe in the filtering power of oysters. Using a blog established for communication with the governor and his scientists, the VISTA students dashed off a note to the governor explaining their experiment and what it had shown. The students also wrote daily blogs entries to the governor about their discoveries.

Vieira, a fifth-grade teacher at James River Elementary – an International Baccalaureate school at which six inquiry-based units are taught a year – said she may have learned as much as her students.

"By going through the program, it gave me another way of teaching how to grab their interest and how to present lessons by putting a problem out there that's a real-life problem," she said. "That's key: it has to mean something to them. They were vested in finding a solution to get those beaches open again.

"One of the other things I learned was to relinquish some of my control in the classroom. Lots of times, we ask questions that only require a yes or no answer. Here, we were given strategies to help the kids think at a high level, to give them open-ended questions and let them run with them."


Or, as Matkins put it, "We told the teachers, 'Be the guide on the side, not the sage on the stage.' "

Matkins was most gratified with reports that the children carried their enthusiasm from the classroom to their homes.

"We had parents tell us that for the first time ever, their children were talking about science at the family dinner table," she said.

The major question to be answered, perhaps, is whether problem-based learning with inquiry will help a higher percentage of students pass the Standards of Learning test (SOL), and whether their scores will be higher.

Vicky Reid, VISTA project director and recently retired Science Supervisor in York County, said previous research indicated the answer was a resounding yes.

"The research that prompted the grant indicates that the SOL scores of students, taught problem-based learning with inquiry, increased by 10 percent," she explained. "As a science educator, I know that when students are engaged, when they have hands-on opportunities, they'll remember. They'll understand. It's just not drilling it into them. Drilling it into them, they remember it long enough for the test on Friday, but they're not able to apply it to situations.

"I have no doubt that if you teach problem-based learning, through hands-on inquiry, for 10-15 minutes, students will gain much more than 30 minutes to an hour of a lecture. And they're going to remember and apply it to problems. They will ask much deeper questions, and they will become much deeper thinkers instead of just being able to regurgitate."

On the last day of camp, "agents" held a press conference for their parents, followed by a rap performance on the need for "Change Right Now" (see video). At the end of the day, the governor visited to congratulate them on their work. And, yes, he was interrupted by a phone call, which, coincidentally, was from his scientists. Because of the hard work of the VISTA fourth- and fifth-grade campers, the beaches had been re-opened.