Conference to educate, inspire next generation of social innovators
More than 150 students, faculty and community partners from Virginia, North Carolina, Maryland and New Jersey will converge upon William & Mary Feb. 11-12 for the inaugural
Active Citizens Conference
, the first student conference of its kind to be held at the College.
The event, hosted by the
Office of Community Engagement and Scholarship
and taking place at the
Mason School of Business
, will feature about 15 guest
speakers
, including many William & Mary alumni who now work in the non-profit world.
"We need to find solutions to solve tough problems," said
Drew Stelljes
, director of community engagement at William & Mary and the conference's organizer. "Locally, many citizens are hungry, and, across the globe, millions of people are in desperate need of drinkable water. When a natural disaster strikes, the most vulnerable are the most severely impacted. In addition to providing aid and compassion we must give students access to the resources that have the capacity of creating solutions."
Student attendees have been hand-picked by their respective schools to attend the conference. A handful of faculty members and nonprofit organization leaders will also be in attendance. Colleges and universities sending participants to the conference include: James Madison University, Virginia Tech, University of Richmond, Virginia Wesleyan, Shenandoah University, Duke, Old Dominion University, Christopher Newport University, University of Virginia, Bridgewater College and the University of North Carolina at Chapel Hill.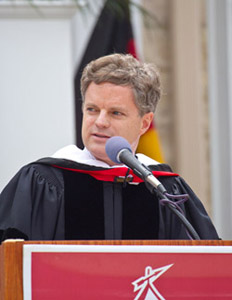 John Bridgeland, CEO of public policy development firm Civic Enterprises and former director of the White House Domestic Policy Council, will give the keynote address at the conference. The father of a William & Mary junior, Bridgeland also serves as the vice president of Malaria No More, and he was recently appointed to the White House Council on Community Solutions.
"My speech will highlight my thoughts on what I think social innovation and entrepreneurship have meant to America, share my own experiences as a social entrepreneur, and offer my ideas for how universities can encourage generations of Americans to do what they do best – invent," said Bridgeland. 
Some of the William & Mary alumni who are serving as speakers at the conference include: George Srour '05, founder of Building Tomorrow; Cosmo Fujiyama '07, co-founder of Students Helping Honduras; Greg Werkheiser '96, founder of the Phoenix Project; Doug Bunch JD '06, chairman of Global Playground; Allison Anoll '09, a Ph.D. student at Stanford who is studying political philosophy; Brad Potter '08, operations planner and writer for Oak Ridge Associate Universities; Judd Kennedy '08, development consultant in the Middle East Affairs Office of the U.S. Agency for International Development; Mallory Johnson '10, a law student pursuing a certificate in public policy; and Virginia M. Ambler '88, Ph.D. '06,  vice president for student affairs at William & Mary.
Stelljes said he is thrilled that they are significantly incorporating alumni into the event.
"The conference is evidence of the value of lifelong relationship with William and Mary.  There is no way that this conference would be feasible let alone successful without our alumni," he said.
Stelljes and Cathy Howard, vice provost for community engagement at VCU and co-chair with Stelljes of the Virginia Engage Network, have been discussing bringing back student conferences on the subject of community engagement for years. Though there's been a growing movement toward community engagement among college students in the last 20 years, there haven't been any regional student conferences on the topic in a decade.
In the fall 2010, Stelljes decided the time was right to capitalize on the movement and bring back student conferences.
"I thought, how could we rally students, faculty, staff and community partners from around the state around this common issue of developing active citizens -- the next generation of social innovators and change makers -- and tap into one of our prized resources, and that's our alumni." he said.
He picked up the phone and began calling alumni, ranging from recent graduates to those who graduated in the 1970s. To his delight, every person he asked to participate said yes.
The approximately 15 participants will not only speak during different sessions throughout the conference, they will also begin to build relationships with the student participants.
"They are not only giving their time and sharing ideas for two days, but they are opening themselves up to being mentors and advice givers and supportive of the students' dreams from here on out," said Stelljes.
Engaging in face-to-face conversations is something that Stelljes believes is very important, especially in his field of work.
"Even in this day and age, when technology allows us to do so much, (the conference is) still allowing us to put a human touch on something that is very humanistic," he said. "Getting to know people who can support students' dream is very important."
Stelljes hopes that the conference is just the beginning of several new friendships, mentorships and collaborations. Many of the Commonwealth's schools are doing similar types of work, he said, and increasingly, they are talking about engaging in collaborative efforts.
"Maybe this will motivate us to take the next step and imagine applying for a cooperative grant and put together a mission statement about what we want to accomplish and how we involve students, faculty and community partners," he said.
Stelljes is unsure of everything that will come out of the conference, but "I just want the conversation to happen," he said.
"It is my hope that the Active Citizens Conference emerges as more than just an event but that it serves as a catalyst for action and real change in communities across Virginia and beyond," Stelljes said. "With support from many W&M alumni who are leaders in social innovation, we hope to inform, educate and inspire the next generation of change makers."