Winter concerts to feature family fun, alumnus performance
The Choirs of the College of William and Mary will present their annual winter concerts in Phi Beta Kappa Hall Dec. 4 at 2 p.m. and 8 p.m. Each performance will offer something unique to its audience.
The 2 p.m. concert is geared toward families and will feature the W&M Women's Chorus, Botetourt Chamber Singers directed by
Jamie C. Bartlett
and the W&M Choir directed by
James I. Armstrong, Jr.
The performance will include a number of family carols – including "Rudolph," "Jingle Bells" and "Deck the Hall" -- for the audience to sing with the combined choirs. The concert will end with the traditional singing of "Silent Night."
The 8 p.m. concert will also feature individual performances by the three ensembles but will conclude with the joined choirs singing three pieces featuring W&M alumnus Matthew Lawrence Klein '06 as the tenor soloist.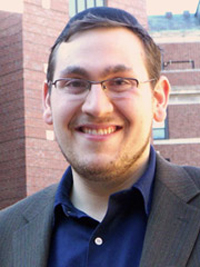 Klein is a fifth-year student at the Jewish Theological Seminary in New York where he is pursuing a master of sacred music and investiture as a Hazzan (Jewish music minister) from the H.L. Miller Cantorial School. A native-born Virginian, Matt graduated summa cum laude from the College of William and Mary where he majored in
music
. He is an alumnus of the Botetourt Chamber Singers.
He began his cantorial career while a senior at William & Mary. Thanks to the William & Mary
Hillel
, Matt was discovered at a Sabbath retreat in 2005 and was engaged as the High Holiday cantor of Rodef Sholom Temple in Hampton, Va. Since then Matt has sung in pulpits in both Israel and the U.S. and currently serves as the cantor of White Meadow Temple in Rockaway, N.J. He is the former president of the Cantorial School Student Organization and also serves as an instructor and community organizer at JTS. Klein was recently a featured soloist with the Jewish People's Philharmonic Chorus and is looking forward to sharing his passion for Jewish choral music with the W&M community.
"Coming back to sing with the W&M choirs is a dream come true," he said. "I'm so excited to be able to share my passion for Jewish music and to give back to the school that gave so much to me."
For more information about the concerts, please contact Armstrong at 757-221-1085 or Bartlett at 757-221-1072. For tickets or ticket information please contact the PBK Box Office at 757-221-2674. For an additional service charge, tickets can also be purchased
online
.
In a show of appreciation for their contributions to the community, William & Mary staff members may receive two free tickets to the concert of their choice. Staff members must show their W&M photo ID at the box office to receive the tickets. Call the box office for more information.