Raft Debate slated for Sept. 29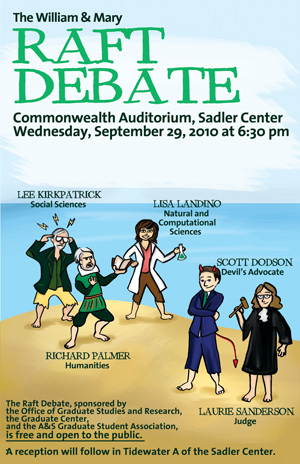 In the return of what has been described as "a much beloved William & Mary tradition," the annual Raft Debate will take place this year in the Sadler Center's Commonwealth Auditorium on Sept. 29 at 6:30 p.m.
That evening, three survivors of a fictional shipwreck must debate who deserves to be saved from the deserted island: the scientist, the social scientist, or the humanist. Played by various members of the William & Mary faculty, and rounded out by a judge and a devil's advocate, the cast of the Raft Debate will use reason, rhetoric and humor in an attempt to settle, once and for all, the question of whose discipline reigns supreme.
The three fields will be represented by
Richard Palmer
of the department of
theatre, speech and dance
,
Lee Kirkpatrick
of the
psychology
department, and
Lisa Landino
of the
chemistry
department. This year's judge will be
Laurie Sanderson
, dean of
graduate studies
and research for Arts & Sciences. Arguing against the rescue of any of the contestants will be
Law
Professor Scott Dodson, as the devil's advocate.
This year's poster for the event was created by
art
major Rachel Follis '11. The art surrounding the event has become a tradition in its own right over the years, and the latest work to caricature the raft debate's newest contestants should be appearing on campus within the next week.
The Raft Debate, sponsored by the Office of Graduate Studies and Research, the Graduate Center, and the A&S Graduate Student Association, is free and open to the public. A reception will follow in the Tidewater A room of the Sadler Center.