Paul Verkuil '61 sworn in as chair of ACUS
When former William & Mary President Paul Verkuil '61 was sworn in as chairman of the Administrative Conference of the United States (ACUS), there was a familiar piece of the College's history by his side.
Verkuil was sworn in holding the John Marshall family bible - the very same bible Verkuil used when he was sworn in as William & Mary's 24th president in 1985. William & Mary President Taylor Reveley delivered the Marshall bible to the April 6 ceremony at Eisenhower Executive Office Building next to the White House. Verkuil was sworn in by Vice President Joe Biden and was also joined by his wife Judy Rodin, a former president of the University of Pennsylvania who now serves as president of the Rockefeller Foundation.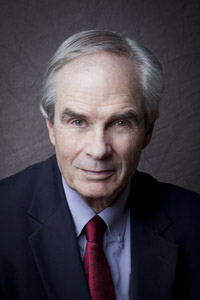 The bible has special significance to William & Mary and it rarely leaves its home  at William & Mary Law School's Wolf Law Library. Marshall served as the fourth Chief Justice of the United States and was among the first students to study law under George Wythe at William & Mary.
 "It's grand that Paul wanted an important part of William & Mary's history to be with him for this very significant moment in his life," Reveley said. "His alma mater is very proud of him."
Verkuil, who served as president of the College until 1992, received his undergraduate degree in English from William & Mary. He becomes the first ACUS chairman since 1995. The Administrative Conference, established in 1968, is an independent advisory group charged with helping improve the workings of the federal government.
Verkuil  is a leading scholar of administrative law.  His most recent book is "Outsourcing Sovereignty: Why Privatization of Government Functions Threatens Democracy and What We Can do About It," published by Cambridge University Press in 2007.