Obama appoints Paul Verkuil '61 to key U.S. post
Former William & Mary President  Paul Verkuil '61 has been appointed by President Barack Obama as chairman of a newly reconstituted Administrative Conference of the United States (ACUS). The U.S. Senate unanimously confirmed the nomination March 3.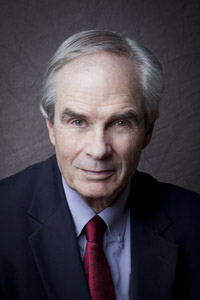 Verkuil, who served as William & Mary's 24th president from 1985-92 and received his undergraduate degree in
English
literature from the College, currently is a law professor at the Yeshiva University Benjamin N. Cardozo School of Law.  The Administrative Conference is an independent advisory group charged with making recommendations to Congress and federal agencies concerning the efficiency, soundness and fairness of agency procedures.
"This is very good news.  As one of our country's foremost experts on administrative law and regulation, Paul Verkuil will do an enormous amount of good in this post.  Paul has had an extraordinarily productive career.  Leading the revived ACUS is the latest manifestation of his prowess as a leader.  William & Mary is very proud of its alumnus and 24th president," William & Mary President Taylor Reveley said.
The ACUS was established in 1968 and has produced a number of important recommendations on topics ranging from agency alternative dispute resolutions and regulatory negotiation to venue rules for judicial review and rulemaking procedures.
"I am fortunate indeed to have what for me is the dream job--heading an agency whose purpose is to make government work better and fairer for the public," Verkuil said.
Verkuil becomes the first ACUS chairman since 1995. He is a leading scholar of law and regulation and has published more than 60 articles in these areas. His most recent book is "Outsourcing Sovereignty: Why Privatization of Government Functions Threatens Democracy and What We Can Do about It," published by Cambridge University Press in 2007.
"This is a tremendous honor and a great recognition of Paul's contributions to administrative law. I cannot think of a person better able to construct and lead the ACUS," said Cardozo Law Dean Matthew Diller in a press release from the school. "We will all miss seeing Paul every day at Cardozo, where he had been a major presence on our faculty and in the life of the school for more than a decade."
Verkuil served as dean of Cardozo from 1997 to 2001 and is a life fellow of the American Bar Foundation and of the American Law Institute. Verkuil received his LL. B. from the University of Virginia and a J.S.D. from New York University School of Law.