'Justice' key to 2010 Monroe Prize in Civic Leadership recipient
If one were to ask recent College of William and Mary graduate Nik Belanger what community service meant to him, he would probably respond "justice."
Yet it is Belanger's strong beliefs in justice-oriented
community engagement
that are in large part why he has been selected as the 2010 recipient of the Monroe Prize in Civic Leadership.
Belanger, who graduated from the William & Mary last December with a double major in
government
and
French
, was awarded the prize this weekend during the annual Charter Day activities.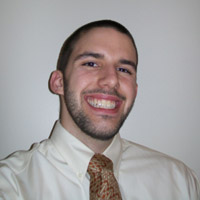 The prize, established in 2005 by the Owens Foundation, annually recognizes one William & Mary student who best exemplifies student leadership "combined with initiative, character, and an unfailing commitment to leveraging the assets of the College community to address the needs of society," according to a program given each year during the award ceremony.
During his time at the College, Belanger served as the president of the College's chapter of the International Justice Mission, a human rights agency that strives to secure justice for victims of violent oppression. In addition, he served as a co-facilitator of the campus chapter of the Virginia Organizing Project, a nonpartisan grassroots organization that seeks to battle injustices by giving people the means by which they can improve their quality of life.
Belanger said that his involvement in both clubs helped him realize that being a leader came from the power of many.
"[The International Justice Mission] helped me realize that leadership is not about being the one in the limelight-true leadership seeks to build everyone up," he said. "As an individual acting on my own, I can only accomplish so much, but real, meaningful change is made through people joining together as one."
In addition, Belanger has been involved with Circle K International, Safe Zone, and tutoring individuals in the nearby community.
But in the end, he said that the International Justice Mission and the Virginia Organizing Project truly helped him to understand the meaning of justice.
"While IJM gave me the framework for understanding what justice means," Belanger said, "VOP helped to give legs to the issues that were burning in my mind."
Belanger, who now works as an organizer for the Danville Chapter of the Virginia Organizing Project, said that his experiences as a leader at William & Mary highlighted more than ever the importance of helping those in need.
"I've never wavered on my belief that people deserve justice and equality," Belanger said. "It's just a question of striving to live that out in my daily life."