'Haiti Week' gives relief on one-month anniversary of earthquake disaster
In honor of the one-month anniversary of the Haiti earthquake disaster, students around the William & Mary campus will be working to support the College's relief efforts for the ravaged country this week as students take part in "Haiti Week."
Hosted by William & Mary Supports Haiti, a student-run umbrella organization of more than 11 student organizations, all benefits from this week's activities will be donated towards the University of Fondwa, a post-secondary institution catering to Haiti's rural poor that was demolished during the Jan. 17 earthquake that struck the island nation.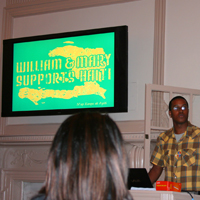 WMSH, which was formed when more than 250 William & Mary students showed up to an interest meeting expressing a desire to help the people of Haiti, is made up of such student groups as service fraternity Alpha Phi Omega, the Student Assembly, and honor fraternity Phi Sigma Pi, among others.
"It was clear that with all the energy and eagerness to help in the room, a single day event would not cut it so it expanded into a week-long event," Student Assembly President and member of the WMSH Steering Committee Sarah Rojas '10 said. "I hope that this week is a kick-off event for a sustainable and continued commitment between the William and Mary community and our partner organizations in Haiti."
Activities throughout the week include such events as a scrapbook/letter writing campaign on Tuesday sponsored by the Catholic Campus Ministry and a talk next week at the William & Mary Law School by the former Minister of Justice of Haiti. Scheduled for Monday, the event is sponsored by the Black Law Students Association.
The week culminates in a benefit concert on Friday, the one-month anniversary of the quake, with performances by several different campus organizations.
Students are also encouraged to buy T-shirts throughout the week in support of the Haiti effort to be worn on Friday.
 The following events will take place this week:
Monday
Haiti relief T-Shirts, which will be sold for $10 with 100 percent of the profit going to WMSH, began being sold in the Sadler Center. This event will run throughout the week until Friday.
Donation boxes, sponsored by Greek Life, APO, and the Student Assembly, were placed around campus to collect monetary donations.
Tuesday
Aroma's, a café on Prince George Street in Colonial Williamsburg, sponsored a profit-sharing event with Phi Sigma Pi. For students, if a coupon found in the school mailboxes is brought, a percentage of all purchases will be sent towards the relief fund.
6-8 p.m.: Catholic Campus Ministries hosted a scrapbook/letter writing campaign from the "catacombs" of their chapel on Richmond Road.
Thursday
Dining services will be teaming up with the Commons (Caf) to donate 25 cents to each person who swipes into the dining hall. There will also be a Haiti food station from 4:30-8 p.m.
7 p.m.: An interdenominational service will be held in honor of Haiti in the Sadler Center. The event is free, but participants are encouraged to donate $2 to the relief effort.
Friday
8-10 p.m.: A benefit concert will be held in the Sadler Center Commonwealth room with performances by a cappella, dance and step groups. Landon Yarrington '09 and Jonna Knappenberger '09, will also be sharing their experiences from Haiti.
Saturday
7 p.m.: A benefit concert will be held by the campus's a cappella groups in order to help Haiti.
NetworkWilliamsburg and AMP have organized a bowling relief effort. ($5 to bowl for two hours, $4 of which goes to the Haiti fund)
Monday
Black Law Students Association will be co-hosting a talk about Haiti by the former Haitian Minister of Justice at the Law School room 119.