Earl Granger, Henry Broaddus appointed to new leadership positions at W&M
Associate Provost for Enrollment
Earl Granger
III '92, M.Ed. '98, has been appointed associate vice president for
development
and will leave his current post to help lead fundraising efforts, officials announced today. In addition, Dean of Admission
Henry Broaddus
will assume responsibilities for both
admission
and
financial aid
. Both appointments are effective September 7.
"Messrs. Granger and Broaddus have led splendidly for William & Mary in their old roles, and I'm confident this will continue to be true as Earl becomes a senior force in development and Henry assumes ultimate responsibility for both admission and enrollment," said President Taylor Reveley. "We are extremely fortunate to have both of them with us."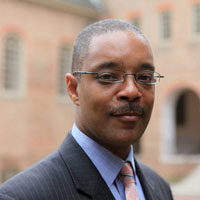 Granger, who returned to his alma mater in 2006 to lead the admission and financial aid programs, has successfully increased the prospective students applicant pool, which peaked at more than 12,000 applications last year; increased under-represented racial backgrounds from 20 percent to 25 percent in four years; and created a culture of engagement to better serve incoming students and their families. As the associate vice president for University Development, Granger will manage the day-to-day activities of the fundraising programs to include leadership gifts and the constituent programs; and supervision over major gifts, planned gifts, annual gifts and corporate and foundation relations. He reports to the vice president for University Development.
"Earl demonstrates critical skills required for effective management of a fundraising program," explained Sean Pieri, vice president for University Development. "He has the passion, drive and know-how to generate enthusiasm for support of the College of William & Mary."
Prior to Granger's appointments at William & Mary, he was a senior member of the University of North Carolina-Chapel Hill's MBA admissions team, for which he directed and managed all aspects of on-campus recruitment programs. Prior to joining UNC, he served from 1996 to 1999 as associate director of admissions at Tufts University in Medford, Mass.
A native of Richmond, Granger received his undergraduate degree in public policy and his master's degree in higher education administration from William & Mary. At his undergraduate graduation, Granger received the Algernon Sydney Sullivan Award, an annual award given to two students and one nonstudent who demonstrate a spirit for helping others and the community.
"I am excited and humbled to have the opportunity to continue to engage the William & Mary community," said Granger. "William & Mary holds a special place in my life, the College is ingrained in my spirit. I returned to the College in 2006 to influence external perceptions and engage new students and their parents. Today, I am accepting the opportunity to influence how others view the College and choose to support the initiatives that secure its future."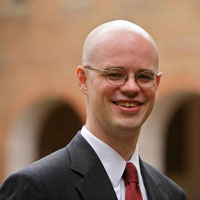 Broaddus joined the College nine years ago as senior assistant dean of admissions. For the past five years, Broaddus has directed the admission office as dean. Broaddus, who joined the College in 2001 and was named dean of admission in 2005, has worked closely with Granger the past four years. In his new position as associate provost for enrollment and dean of admission, Broaddus will assume responsibility for both the offices of undergraduate admission and financial aid. He will report to Provost Michael R. Halleran.
"We are thrilled that Henry has agreed to take on these new responsibilities," Halleran said. "He has big shoes to fill in succeeding Earl but I am confident enrollment and admission won't miss a step under his leadership. Both of these appointments are great news for William & Mary."
A native of the Richmond area, Broaddus graduated magna cum laude in 1997 from Dartmouth with an A.B. in English literature and creative writing. He has since developed into a respected national speaker and source on undergraduate college admissions. Broaddus travels internationally on behalf of the Overseas Schools Project, a joint venture of the U.S. Department of State and the College Board. In addition, he has received multiple awards from the Council for Advancement and Support of Education (CASE) for admission communications, including a YouTube video he scripted regarding the W&M application essay. Broaddus is also a regular contributor to the Washington Post education blog and a source on national stories regarding College admissions.
"It has been a pleasure to work closely with Earl for almost five years now, and I know firsthand what an outstanding leader the development office will be getting," Broaddus said. "Fortunately, we have great teams in place within both the admission and financial aid offices, and my confidence in them gives me great comfort as we make this transition, build upon the successes of recent years and prepare to face new challenges together."