A fifth for Lord Botetourt, as in anniversary
Five years ago this Friday, Nov. 19, what one might call William & Mary's case of the prodigal proof came to a glorious conclusion.

Inside Swem Library, champagne glass in hand, his face bathed in a radiant smile, Christopher Fildes – already a beloved friend to the College – handed over a bronze link to W&M's most precious academic prize.

The Lord Botetourt Medal.

Fildes, a distinguished, critically acclaimed British financial columnist and broadcaster, returned to campus recently on one of his annual pilgrimages. It was clear that visiting old friends in comfortable, colonial surroundings had been good for his soul.

"I would like to be inextricably linked to the College," he conceded, before adding modestly, "but that's the College's kindness."

That charity actually extends both ways.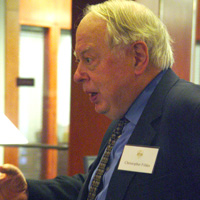 In the early 1990s, Fildes queried several American institutions, including W&M, as he sought to establish a scholarship in memory of his late wife, Massachusetts native Frederica Lord. In Washington, D.C., to cover an International Monetary Fund conference, Fildes traveled to the College, stopped into the Office of Development, and quickly encountered an eager partner in his plan to enable a female British student to come abroad to study for a year.

"I thought just by the law of averages, someone would come here and have a bad experience," Fildes said, gently tapping this knuckles on a table in Reves Center Interim Director Ron St. Onge's office. "But nothing ever went wrong. They all got a great deal out of it -- and nobody got more out of it than me."

Over time, he discovered that fewer students were interested in devoting an entire year to studying in the States. Fildes then flipped the project, enabling a W&M student to study at any of 22 universities in Great Britain, ideally for a year. The scholarship was renamed honor of his close friend and former W&M President Timothy Sullivan, and the first recipient was Andy Allen '11.

The Sullivan Scholarship is funded by the Draper's Company, a centuries-old English guild that administers charitable trusts on behalf of schools and non-profit institutions because, Fildes jokes, "it would be reassuring to some student to know that it wasn't some crazy financial journalist who'd set this up."

All of which is of justifiably enormous pride to Fildes and incalculable value to W&M's commitment to international involvement. But it pales in comparison to the story of Fildes and the Botetourt Medal bronze proof, a rare tale whose every aspect astounds and amazes.

The award and the commemorative medallion was established by Norborne Berkeley, Baron de Botetourt and Colonial Governor of Virginia. According to the Colonial Williamsburg Foundation, it was only the second academic award in the colonies.

The prize may never have been given due to Berkeley's untimely death in 1771. Had his nephew and prime beneficiary not been aware of his wishes to establish the prize at William & Mary, it would have been lost, Colonial Williamsburg curator emeritus Graham Hood said in 2005.


Instead, the nephew, the fifth Duke of Beaufort, had eight gold medallions minted in England, along with an unknown number of copper and bronze proofs.

Given at Commencement to the undergraduate with the greatest distinction in scholarship, the medal was first awarded here in 1772 before being discontinued as a result of funding difficulties arising from the American Revolution.

In 1941, the College resumed presenting it annually. The 2010 recipient was Kira Allmann, just the sixth Rhodes Scholar in W&M history.

So how did Fildes come to have one in his possession? Serendipity. It was passed down from his grandfather, whom Fildes described as a "magpie collector of many things, coins and medallions."

Once their grandfather and father passed away, the Fildes brothers took the coins to a London dealer and had them catalogued.

"In the catalogue, I suddenly spotted something with a college connection and I said, 'Pull that one out,' " he recalled. "I had no idea what the connection was going to be."

He immediately detected Williamsburg and college connections. Fildes had studied enough Latin to know that on one side of the coin King William and Queen Mary were presenting a charter to someone called "Blaro," which he worked through as a Latin dative of "Blair."

He contacted Sullivan and asked whether the College would like to have it.

"I have never seen Tim Sullivan's face change so dramatically as when I showed him this and asked if he had any interest," Fildes recalled with a chuckle. "There was a ceremony arranged for me to do the presentation. It was a very touching occasion."

And one that, like the relationship between Fildes and his adopted College, is worth remembering and savoring, year after year after year.