W&M home page graces cover of new book
The recently redesigned William & Mary Web site is now serving as an example of excellence for other institutions of higher education to follow.
The site's
home page
is featured prominently both in and on the book "The eduStyle Guide to Usable Higher-Ed Homepage Design." The book reviews the home pages of 20 colleges and universities that were named "noteworthy" by
eduStyle.net
, a Web site design gallery.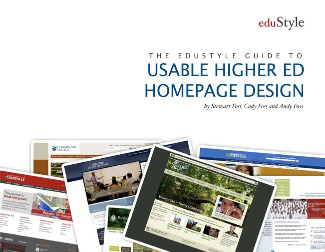 An image of the William & Mary home page is displayed on the cover of the book, and the site is praised in the book's review for having simple but comprehensive navigation, consistent layout and design, quality photographs and distinctive branding.
William & Mary's redesigned We site was launched on July 31, 2008, after 18 months of research, planning and hard work by the William & Mary
Web team
and hundreds of other faculty, staff, and students. In addition to this latest recognition, the site's home page has also received a Special Merit Award in the category of World Wide Web Home Page Design and Implementation at the CASE III Conference.
For more on the book and the latest on the Web site, visit the William & Mary Web team's
blog
.