Kulick receives Thomas Jefferson Award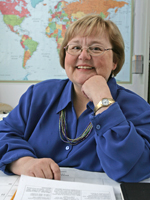 In 1963, the Jefferson Award was established to recognize a person who has demonstrated a deep devotion and outstanding service to the College and whose life, character, and influence on the College exemplify the principles of Thomas Jefferson.
On Charter Day 2009, the College bestowed this award – one of its most prestigious – on Katherine Kulick, Associate Professor of French and Modern Languages.  In recent weeks, nominations streamed in from faculty, students and administrators who praised their colleague, calling her a leader, a mentor, consensus builder, and a champion for her department and the College.
Still, the award comes as a surprise to Kulick. 
"I am speechless – in French, English and Italian!   I am both humbled and honored to be the 2009 recipient of the Thomas Jefferson Award.   Those who have received the award in years past have been giants among the faculty and the administration – individuals whose accomplishments are legendary.  I am flattered that my colleagues would nominate me for this award."
Kulick, who once taught English at the Université de Lyon in France now teaches French at William and Mary where she has been a member of the faculty for over two decades.
"What brought me here was the exciting and dynamic nature of the Modern Languages Department, and of the whole university.  William and Mary was then – and remains today – an engaged community whose enviable reputation rests on the strengths of its students, faculty and staff.  These 22 years have held numerous opportunities to work with some pretty amazing colleagues from all across the university."
Prior to joining the faculty at the College in 1987, she taught at Indiana University in Fort Wayne, a campus with a (then) average age of 30 years for its undergraduate population.  While teaching there, Kulick was finishing her dissertation which focused on foreign language acquisition in adults, so IU provided an ideal environment to conduct her research.
A noted scholar in second language acquisition and foreign language pedagogy who has authored or co-authored four textbooks, Kulick is singularly committed to the value of learning and considers the classroom her laboratory.   Merry Feyock, Instructor of German, describes Kulick as "tirelessly and selflessly pursuing the Jeffersonian goal of excellence in the quest for all knowledge that is at the heart of the William and Mary's mission."
Kulick says, "Many large universities have extensive research programs, while many small colleges devote themselves entirely to their teaching mission. William & Mary offers both quality research and excellence in teaching provided in a setting small enough for students to routinely experience both."
Beyond her teaching and research, she is also extraordinarily involved in faculty governance, often serving on two or three major college committees while simultaneously chairing others.  This year alone, Kulick is the Faculty Representative to the Board of Visitors, serves on both the Faculty Assembly and Executive Committee of the Faculty Assembly, and is a member of the President's Strategic Planning Committee.
Significant among her contributions is the six years she served as Chair of the Department of Modern Languages and Literatures.  According to one colleague, "Katherine helped us take major steps forward in diversifying our courses, democratizing and streamlining our department operations, supporting bright young hires in their new fields of inquiry, and mentoring young and old alike."
A senior faculty member, involved in faculty governance since 1969, describes Kulick as "the most effective chair with whom I have had the pleasure of being associated, bar none."
Faculty praise her leadership in guiding three triennial faculty surveys which are now – thanks to Kulick's efforts – web-based.   These surveys are a critical tool by which the faculty's priorities and needs are communicated.  Subsequently, as President of the Faculty Assembly Kulick's presentation of the survey's findings to the administration and to the Board of Visitors illuminated the need for – and garnered the College's firm commitment to – the enhancement of faculty salaries.
According to David P. Aday, Jr., Professor of Sociology and Special Assistant to the Provost, "Katherine understands that faculty governance is not just another category of merit review, not just a necessary but sometimes malodorous obligation, but essential to ensuring that teaching and learning stand at the center of institutional purpose and effort."
Beyond the classroom, the laboratory, the concert hall and the studio, beyond the research, Kulick sees the College as a community of teacher-scholars – in the very best sense – where faculty, staff and students are engaged in a meaningful way with every aspect of this institution.
"I am inspired by the sense of community that exists at William & Mary.  I just want to do my part."