Hallinger receives Thomas Jefferson Prize in Natural Philosophy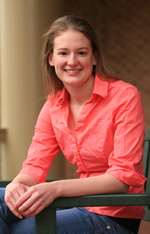 Whether she is crouched near the bank of a river in the Shenandoah Valley, handling meticulous experiments in a lab or gently holding a bird between her hands, senior Kelly Hallinger has always been placed in the exceptional category. Only now, she has received recognition for it.
On Feb. 7, during William & Mary's annual Charter Day celebrations, Hallinger received the Thomas Jefferson Prize in Natural Philosophy for her work in biology and ornithology.  The prize has been endowed by the trustees of the Thomas Jefferson Memorial Foundation of Charlottesville, Va.  It recognizes excellence in the sciences and honors the relationship that Jefferson enjoyed with Professor William Small, his College tutor in mathematics and the "natural sciences."  Hallinger, for her display of curiosity about the natural world, was nominated by her department for the prize.
When Hallinger first came to the College, she had no designs on a degree in biology.  In high school, she had excelled in chemistry, and credits a teacher who took interest in her as setting her on that path.  Hallinger went on to do significant research in the chemistry department, but it was an introductory level class in biology that ultimately captured her interest and imagination.  The class was taught by professor Dan Cristol, who now serves as her advisor.
"I've been really lucky to have professors in both the Biology and Chemistry department help me along the way.  I'm indebted to a lot of people," she said.  "Professor Cristol has had a tremendous impact on me, especially."
It was Cristol's experiments in the Shenandoah Valley that allowed her to find what she now considers her calling.  The South River, one of the major tributaries of Virginia's Shenandoah River, had been contaminated by an industrial plant in the 1930s and 1940s.  Though the river has been placed under a fish-consumption advisory for many years, it was still believed that animals feeding near, but not directly from, the river had little chance for contamination.  However, in the three years Hallinger has spent studying the effects of mercury contamination in birds, she and the others discovered that these terrestrial birds were still ingesting high quantities of mercury.
The first major project Hallinger conducted studied whether or not the level of mercury in their systems affected the song of four different bird species.
"We found that there is a consistent drop in the pitch of the songs of contaminated birds," she said.  "But it only mattered in species that learned their songs, rather than those that had a genetically coded song."
For her honors thesis, Hallinger is continuing the work of a former graduate student and is studying whether mercury is affecting the lifetime reproductive success of tree swallows that are breeding along the river.  These birds eat directly out of the river as 50 percent of their diet is comprised of aquatic insects.
With so much already under her belt, it seems natural for the College senior to consider graduate school as her next step.  She is currently interviewing with several top ornithology programs, but there is little doubt she is already several steps ahead of her peers.  Hallinger has published four articles in major scientific journals and, in 2008 alone, secured over $8,000 in internal and external grants.   Ultimately, she would like to dedicate her life to education and study as a professor.
"I'm pretty sold on birds," she said, "but I haven't decided on the specific research area within that yet.  I'm really interested in a lot of conservation areas where there are a lot of long-term projects to be done."
After years of research in the field and labs, presentations and papers, Hallinger still has a hard time that she, someone who never had gone on a bird watch or studied them in school, had fallen into her research so naturally.
"I was always one of those people on campus tours that was annoyed when people pressed the tour guides about research opportunities.  I was always, 'I don't care!  Why is everything about research?' and I had no idea, no idea," she said with a smile.  'I didn't know anything when I came here, and now I can't imagine doing anything else."