Student choreographers put ideas in motion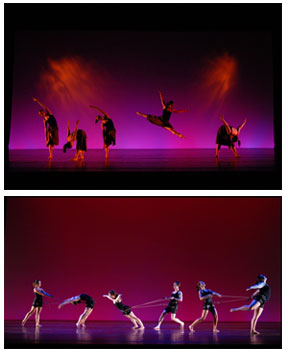 The dancer moves slowly at first and then builds into a coiled momentum until, suddenly, she stops. The frustration is clear on her face. She tries again and more dancers join in her endeavor, pushing through the stops and pauses together, drawing strength and energy from each other. Taylor Rubin sits in the dark at Phi Beta Kappa Hall and watches her vision come to life on the stage in front of her: frustration, joy, humor all played out in every move. It's a dance piece inspired by inspiration itself, and Rubin was its creator.

"Sometimes you can just hear a piece of music and you just start seeing things," she said. "I know that sounds like you're crazy, but you want to move in a certain way. For me, it was a piece of music that was the inspiration."

Rubin, a senior at the College of William and Mary, is one of nearly a dozen students who choreographed modern dance pieces for the upcoming performance of "An Evening of Dance," scheduled for 8 p.m. on March 20, 21 and 22 in Phi Beta Kappa Hall. The program's 11 pieces will feature a variety of music, props and themes include sensuality and play, interpersonal communication and individual conflict and struggle, according to a press release. Tickets are $8 for general admission and $5 for students.

The annual performance is presented every spring and showcases student choreographers and performers with the Orchesis Dance Company. The company, which was started in 1941, is the public face of the William and Mary Dance Program, said Joan Gavaler, professor of dance. Dancers audition to be part of it every fall, and those who are accepted are enrolled in a course worth one or two credits, depending on the number of pieces they dance in. The company has two main-stage performances a year, and each features fully-staged student choreography, something that is very uncommon in higher-education dance programs.

"This opportunity to present work on a professional stage for students who are not majoring in dance is what is most unusual," said Gavaler.

The student choreographers who will present pieces in the upcoming performance began working on their pieces last fall. They were chosen based on their experience, interest, and the course work they had completed in dance composition. Some of the choreographers are dance minors, but, since the College does not offer dance as a major, their primary fields of study range from biology to psychology to marketing.

Gavaler said that members of the dance faculty carefully help the student choreographers mold their ideas and movements, but the students must come up with a strong concept first.

"Modern dance is about the original concept of the choreographer," she said. "The purpose of the faculty isn't to be the source of excitement; it's to support it."

The students said they drew inspiration for their choreography from a variety of sources.

Rubin's piece, What Words Cannot, was inspired by a piece of music and a Martha Graham quote that says the body expresses what words cannot. Rubin said that her piece is about "how you can be inspired by people in your everyday life and how you can take things from everything that you see and incorporate it into some sort of creative piece, whether it be writing or dance or music."

Samantha Proffitt, a senior psychology major and dance minor, said that she pulled from her study of psychology for her piece.

"My piece, entitled Marred Slumber, explores the physical and emotional reactions when someone experiences a nightmare," she said. "My method of choreography is a pairing of research into the psychological bases of nightmares with an overall theme of mechanistic movement."

The students said that once they had a concept in mind, they set about the work of finding the right movements to express it.

"Once you know what you're aiming to achieve, the movement just comes out of you without thinking," said senior Connie MacManus, who began choreographing in high school. "Then you have to play with it-shape it on your dancers and manipulate timing or spacing until it looks like what you've wanted."

Gavaler said that there is a "language" in modern dance that centers on time, space and energy, and the students' task was finding the best "phrases of movement" from that language to fully express their concepts.

For instance, in her piece Be Still My Heart, Camille Shand uses slow, fluid movements in contrast with fast, frantic movements to illustrate her dance's concept about being torn between two choices when being faced with a difficult situation. This is the first time that Shand has choreographed something at this level, and she said it was somewhat nerve-wracking.

"I'm not going to lie, I was really scared about having to come up with six minutes worth of interesting movement," she said. "But once it's done and you can see your brain child up on stage, it's the most rewarding feeling."

The choreographers will have had only ten rehearsals before the performance's opening night. Along with finding a piece of music, choreographing movements and teaching their dancers the piece, they are also responsible for creating costumes and working with the light designers. Additionally, they dance in their fellow choreographers' pieces.

Despite the work involved, MacManus, whose Encounters with Rapture piece was heavily inspired by Latin American cultures, said she enjoys having the chance to choreograph.

"I feel like choreography is one of the richest forms of art because it's alive and fresh with each performance," she said. "I like being able to express myself without speaking-instead I let my body show emotions. In this way, the audience attaches your dance to their own lives."

As opening night draws near, the choreographers and dancers will continue to rehearse and re-examine their pieces, anticipating the audiences' reactions. Rubin said that knows her dancers are ready, but the first-time choreographer is still nervous as she counts the days until the ruby-red curtain is raised to reveal her vision.

"I got the best cast I could have every asked for. They pick everything up so quickly and they try really hard, so that made it much easier, but I guess you can't really help being nervous," she said.

For tickets and more information on "An Evening of Dance," call the box office at 757-221-2674 or visit www.tix.com. For more information on Orchesis, visit http://www.wm.edu/dance/Orchesis.html.