Howard Discusses New Book on Social Safety Nets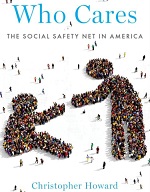 Chris Howard, Harriman Professor of Government and Public Policy, recently spoke to W&M students about "Social Safety Nets for Food and Medical Care."  In his new book, Who Cares: The Social Safety Net in America, Professor Howard provides the "first comprehensive map" of the entire social safety net, both public and private, and analyzes a wide range of social policies. His talk to the W&M community focused specifically on the social safety nets of food and medical care in the United States and the gaps that remain in providing basic levels of both.
The public safety net for food, Professor Howard noted, includes SNAP/food stamps, subsidized school meals, and supplemental food provided through the Women, Infants, and Children (WIC) program. When these benefits fall short, many Americans turn to charitable food banks, food pantries, and soup kitchens. Corporate caregivers are crucial, both in terms of providing and distributing food, and they also play an important role in the social safety net for medical care.  Professor Howard described the medical care safety net as including Medicaid, Medicare, and workers' compensation programs, as well as free and charitable clinics.  Professor Howard's new book covers other needs as well, including income, housing, and daily care.
Professor Howard graduated from Duke University as a History major and earned his Ph.D. in Political Science from MIT.  He is co-editor of The Oxford Handbook of U.S. Social Policy, and he is a member of the National Academy of Social Insurance.   
The talk was hosted by W&M's
Schroeder Center for Health Policy
as part of its ongoing efforts to inform students about national health policy issues.