Music Department Scholarships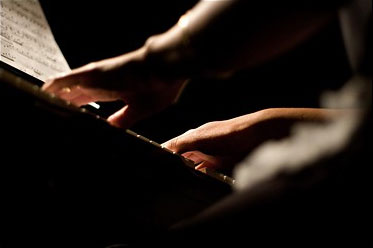 The Department of Music currently offers scholarships to sophomore, junior, and senior music students. Most scholarship awards are determined by vote of the music faculty in the spring for the following year unless noted otherwise.
Gene A. Burns and Mary Alexander Burns Music Scholarship
Established in 1992 by Gene A. Burns, class of 1952 and his wife Mary Alexander Burns to provide financial support to deserving students whose major field of concentration is music. 
Gladys Iseman Clark Lesson Scholarships
Awarded by audition to applied music students each fall and spring; specific disciplines are not required. Administered by the Applied Music Coordinator.
William G. DeFotis Scholarship
Established in 2003 in memory of William DeFotis by family and friends. DeFotis was Chairman of the Department of Music and a composer and instructor. Awarded annually to a serious music student who shows exceptional talent and promise in one or more of the following areas: music theory, composition, conducting, and/or outstanding achievement on an orchestral instrument. Students who demonstrate both exceptional talent and need will be considered first for this award.
Carl A. Fehr Scholarship
Established in honor of Carl A. Fehr, former director of the Choir by alumni and friends. Recipents are chosen by the current choir director.
Susan Jean Kester Bassoon Scholarship
Established in 2001 by H. Burton Kester, Instructor of Bassoon in loving memory of his niece, Susan Jean Kester. The scholarship is awarded to outstanding bassoon students by vote of the applied faculty.
Ruth C. Maynard Scholarship
Established in 2008 to provide support for students of vocal music who demonstrate financial need. Support can be used for, but not limited to, tuition, fees, books and other related expenses for students.
Anna Belle Koenig Nimmo Scholarship
Established in 1980 with the generous support of Anna Belle Koenig Nimmo, class of 1945. Criteria: (a) service to the Department of Music, (b) sound musicianship, (c) potential for future musical growth and development, (d) greatest likelihood to carry forth the best ideals of the Department of Music, and (e) must be a rising senior music major.
Stephen L. Paledes Music Scholarship
Established in 1975 through the generosity of Virginia L. Paledes, alumni, students, faculty and friends to honor her husband Stephen P. Paledes. This scholarship is awarded by vote of the music faculty to one or more music students (sophomore, junior, or senior) on the basis of need. Recipient(s) must be majoring in music. The Office of Financial Aid will inform the Music Department of students who qualify upon receiving a list of eligible names.
Phi Kappa Tau Memorial Scholarship
Established in 2007 to honor members of Phi Kappa Tau who were killed in an auto accident while students at the College of William and Mary. The scholarship will support student research in music for undergraduate or graduate students with a preference for a need-based student.
Elizabeth P. Tillery Music Scholarship
Established in 1992 by Franklin E. Tillery in memory of his wife Elizabeth for the encouragement of scholastic achievement in Music. Two $1,000 scholarships will be awarded to two music majors, one for the fall semester and one for the spring semester; one to a junior and one to a senior full-time student who has accumulated college credits at the College of William and Mary and who has maintained a 3.0 or higher scholastic average. Transfer students are not eligible. The same student who receives this scholarship as a junior may be awarded it again as a senior if the requirements are met.
Frank T. and Bettye Jean Lendrim Fund
Frank T. Lendrim was the W&M Choral Director for 22 years. The Frank T. and Betty Jean Lendrim Fund was established in 1996, upon Dr. Lendrim's retirement, by over 200 choral music alumni and friends of the program. This endowment fund helps to provide support to fill some of the gap caused by shrinking state support and ensures that future Choirs can continue to tour in the U.S. and abroad.
F. Donald Truesdell Scholarship
Awarded by audition for piano lessons in the fall and spring. Administered by the Applied Music coordinator.
Charles P. Varner Scholarship
Established in 1989 by the band alumni and friends of band to honor the long and distinguished service of Music Professor Charles R. Varner, former director of the College of William and Mary Band. Awarded annually to an outstanding band student. The current band director determines the recipient of  this scholarship.
Aurelia Behm Walford Scholarship in Classical Music
Established in 1979 at the final bequest of Aurelia B. Walford. Students who wish to be considered as nominees for this award must fill out an application form made available in the spring. A faculty committee from the Department of Music will review these applications and recommend recipients. A student will not be considered for this award until he/she has completed 4 semesters of work in the Department of Music with the exception of transfer students, and then the student must have completed at least 2 semesters of work in the department or be currently enrolled in the second semester.
In addition, the department strongly recommends completion of at least 3 consecutive semesters of membership in one of the following large ensembles: orchestra, chorus, choir, or band. Only rising juniors or rising seniors are eligible. Financial need is not a factor. The scholarship is for one year. If awarded to a rising junior, that student will again be eligible to be considered the following year if having satisfactorily pursued the recommended course sequence during the previous year, including work in history, theory, and/or performance. There are no exceptions to the application requirement.