There are a number of optional activities for students and Cadets to participate in. These activities are organized and led by Cadets and students.
Queens' Guard/Pershing Rifles
The Queen's Guard is the ceremonial color guard, and it participates in such events as College's Charter Day, Convocation, special military functions, the visitation of Queen Elizabeth II, and athletic events.  It is a special unit of Pershing Rifles, a national military fraternity committed to maintaining a high degree of military professionalism and proficiency in drill.
Pershing Riflemen uphold the highest ideals of the military profession as exemplified by the life of General John Joseph Pershing, who was the founder and patron of this organization. Pershing Rifles was established in 1894, at the University of Nebraska, and has a long and prestigious history.  Learn more ...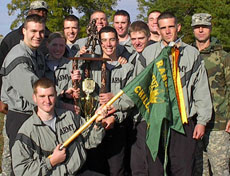 Ranger Challenge
  The"varsity sport" of ROTC, the Ranger Challenge competition is an intense, day-long event, held in October. The teams come from universities in throughout Virginia, Maryland, DC, and Delaware. The competition tests a wide variety of Army skills from communications and first aid procedures, to an obstacle course and 10 kilometer forced road march. The William and Mary team regularly places among the top finishers.  Cadets interested in participating must try out by attending special physical training.