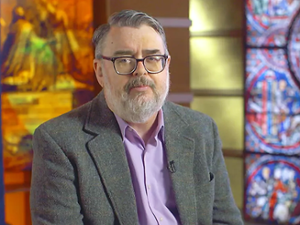 Phil Daileader
Office: Blair 342
Email: [[phdail]]
Regional Areas of Research: Medieval Europe, especially Spain and France
Thematic Areas of Research: Social History, Religious History, and Historiography

Bio
Born in Queens, New York, Philip Daileader specializes in the history of medieval Europe and in historiography. He received his BA degree from The Johns Hopkins University in 1990 and his PhD from Harvard University in 1996. He is the author of two books: True Citizens: Violence, Memory, and Identity in Medieval Perpignan, 1162-1397 (Brill, 2000; French translation, 2004); and Saint Vincent Ferrer, His World and Life: Religion and Society in Late Medieval Europe (Palgrave Macmillan, 2016; Catalan and Spanish translations, 2019), which won the 2018 La corónica International Book Award "for the best monograph published on Medieval Hispanic Languages, Literatures, and Cultures." He is also the coeditor of French Historians, 1900-2000 (Wiley Blackwell, 2010). His articles have appeared in journals such as Speculum, Annales du Midi, Imago temporis: medium aevum, and Archivum Historiae Pontificiae. His current book project has the working title Ending the Middle Ages: Triumph of the New, Triumph of the Royal State in Fifteenth-Century Perpignan.
Philip Daileader has received several teaching awards at William & Mary, most recently The Thomas Ashley Graves, Jr., Award for Sustained Teaching Excellence (2016). He regularly offers various undergraduate courses, including Medieval Europe, The Crusades, Global History since 1500, and a first-year seminar on The Family in Premodern Europe, as well as a graduate seminar on historiography called The Historian's Craft.
He has a keen interest in communicating with audiences beyond the academy. In conjunction with The Teaching Company, he has released five lecture courses available in various video and audio formats: The High Middle Ages (2001), The Early Middle Ages (2004), The Late Middle Ages (2007), How the Crusades Changed History (2013), and Charlemagne: Father of Europe (2021). Moreover, he has completed taping of a revised video version of How the Crusades Changed History, with an anticipated release date of late 2023 or 2024. He has appeared on The History Channel (The Dark Ages, 2007) and twice on National Public Radio's Planet Money program to discuss medieval economics. In print, he recently figured in the May 6, 2023 issue of The Economist ("The emperor's new abode").
Daileader held various administrative and service positions at William & Mary, including Department Chair (2008-2011), Director of the Program in Medieval & Renaissance Studies, and two stints as Ombudsperson for the Graduate School of Arts & Sciences.