William & Mary Linguistics Welcomes Visiting Professor Dr. Randi Moore
The Linguistics program is thrilled to welcome Dr. Randi Moore as a visiting assistant professor for the 2019-2020 school year. Moore will be teaching several courses in Linguistics including: The Study of Language, Field Methods, Types and Universals, and a senior research seminar. She is also continuing her current research and is seeking bright, curious minds to help her during her time at the College.
Before starting her position here, Moore worked as an ESL instructor, a writing tutor, an International Student Programming Coordinator, and a contracted Analytical Linguist for Grammarly. She received her Ph.D in Linguistics from University at Buffalo, the State University of New York, her M.A. in Applied Linguistics at Old Dominion University, and her B.A. in Linguistics and Classical Studies here at William & Mary!
 Moore is thrilled to be back and excited for what this year has in store. "For me it's fantastic to return to my Alma Mater for my first full-time teaching position after graduating. A lot has changed, but much is very familiar. I think it's an excellent opportunity for me to see what it's like teaching highly motivated students in a smaller school environment where faculty can engage with undergraduate students in many more ways than I have experienced before." -Moore
Moore's research explores variation in speakers' language and cognition, and the factors that influence this variation. She is currently working on publishing and expanding her research on spatial reference frame use in the discourse and recall memory of speakers of Isthmus Zapotec. Her results indicate that speakers vary by community and sometimes even by neighborhood in terms of what strategies they use to describe spatial arrays. "For example, in one place people might prefer to say 'the fork is north of the spoon,' whereas in other places they'll tend to say 'the fork is toward my mother's house from the spoon.' This is of course very different from what English speakers may be used to, using 'right' and 'left' to locate such small scale objects!" explains Moore. She also explored the lexical inventory for landscape in speakers of different communities to see if landscape salience might play a role in spatial descriptions. In the future, she hopes to expand her research to explore variation in spatial language and cognition in different populations of English speakers.
The visiting professor does not have any funded positions for research assistants but encourages students to reach out about getting involved! There are two main ways to get involved. First, is to help work through the semantics of the landscape term data collected for Isthmus Zapotec. Second, would be helping her better understand socio-cognitive variation through readings, brainstorming methods, hypotheses, and populations of interest. Finally, students can learn more about her work by enrolling in her research seminar in the spring. For more information please contact Dr. Randi Moore at remoore02@wm.edu.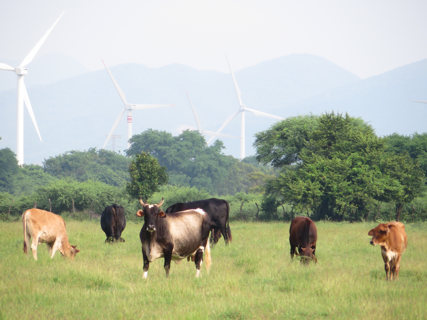 Both for Linguistics majors and students interested in Linguistics, Dr. Moore provides a unique perspective to contribute to the program. Her hope is that she will be able to provide opportunities for students to gain new perspectives in field methods and get a good grasp of semantics.