Soon Come: On-Site Experience with Caribbean Languages and Identities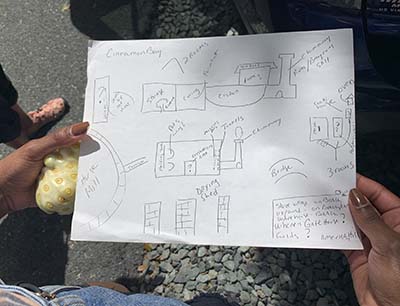 "Soon come" is a Caribbean expression with a number of meanings: It will come, I'll be there soon (with no real time indicated), something will happen soon (again, with no real time indicated), or to suggest that something will be realized soon. Studying these types of linguistic variations provides insights into the unique histories and identities of a people. Students in Professor Iyabo Osiapem's course, Soon Come: Caribbean Languages and Identities, traveled to gain those insights in person.
Five undergraduate students joined Professor Osiapem in a Spring 2020 trip to the U.S. Virgin Islands, funded in part by the Arts & Sciences Annual Fund. They visited historical landmarks, talked to people about language use and identity, and experienced first-hand the linguistic landscape of St. Thomas and the surrounding islands.
"During the semester, we address topics such as current views on the formation of pidgin and creole languages, definitive characteristics of these languages, and the relationships among them," said Professor Osiapem. "But there is no substitute for seeing what I teach actually happen around you."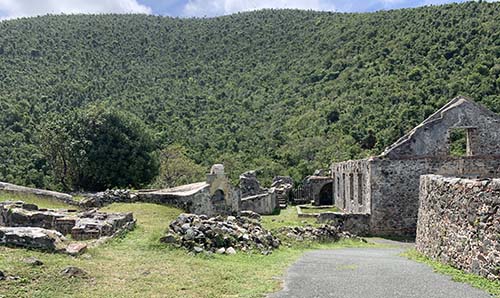 The group toured two sites, Annaberg Sugar Plantation and Cinnamon Bay Plantation, where ongoing archeological projects are reconstructing the life and experience of enslaved communities. They also visited and studied St. Thomas Synagogue, the longest continuous-use synagogue in the U.S.; Fort Christian Museum, formerly used as a prison; and Bolongo Bay and Honeymoon Beach, where the local population held beach-ins and swim-ins to protest the government's restricting hotel and tourist venues to white-only visitors.
A quick drive-through tour replaced planned lectures at the University of St. Thomas, which closed that very week for the COVID-19 pandemic. On their return, the students reported on the trip (by Zoom) to the rest of the class, highlighting images of the linguistic landscape and the people with whom they interacted.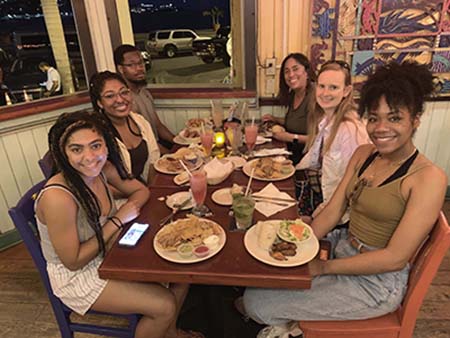 "This type of study away is a great immersive way to enhance academic learning," Professor Osiapem noted. "Ultimately, our students gained an understanding of how language and colonization work in real life."
Fun bonus video: "Soon Come" with Bob Marley & Peter Tosh, on YouTube