Another New Face in W&M Linguistics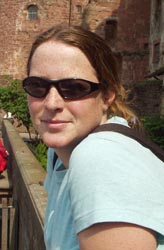 This past year, we were pleased to welcome another new face among the Linguistics faculty: Erin Ament.  Prior to her arrival to The College, Ament taught as an Assistant Professor at the University of Wisconsin and as an Adjunct Lecturer at the University of Arizona.  Currently at the College she teaches the introductory linguistics course ,Study of Language, as well as First Language Acquisition and Experimental Methods in Linguistics. Professor Ament has also taught Phonetics and Phonology. Much of her current research consists of language acquisition and language processing, with a focus in phonetics and prosody. 
She studied in Nepal for a year back in 2001 and is currently a trilingual speaker of English, Nepali, and French. She is an active member in the Linguistic Society of America and has had research presented at several LSA conferences.