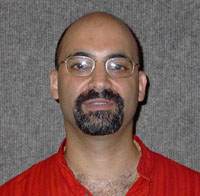 Deenesh Sohoni
Professor, Sociology
Office: Boswell Hall 212
Email: [[dssoho]]
Phone: 757-221-2596
Research Areas: Race and Ethnicity, Immigration, Asian American Studies, Law and Citizenship

Areas of Specialization
Demography, Immigration and Assimilation, Race Relations, Sociology of Education, Globalization
Background
Deenesh Sohoni received his PhD in sociology from the University of Washington in 2002. His sociological interests include globalization, immigration, and race relations. He is currently engaged in three research projects. For the past several years, he has been collaborating with Prof. Saporito on a project examining racial and economic segregation in U.S. public schools. This research has been published in Social Forces (2007) and the Sociology of Education (2006). In addition, he is studying the social incorporation of Asian Americans—both through legal-historical research of anti-miscegenation laws (Law and Society 2007) and citizenship laws, and through the demographic analysis of intermarriage patterns. Finally, he is examining the development of anti-immigrant attitudes in the United States (Current Sociology 2006).
Education
B.A. University of California, Los Angeles
M.A. in Asian Studies, University of California, Santa Barbara
M.A. and Ph.D. in Sociology, University of Washington
Courses Taught
Prof. Sohoni regularly teaches courses in demography (Soc. 311), race relations (Soc. 337), and global migration (Soc. 408). In addition, he helped develop and has directed the study abroad program to Goa, India.