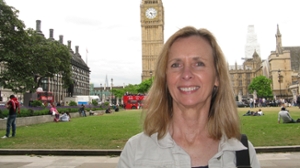 Linda D. Morse
Senior Lecturer
Office: McGlothlin-Street Hall 213
Email: [[ldmors]]
Office Phone: 757 221 2447

Education
B.S. Geology,  Virginia Polytechnic Institute and State University (1983)
Graduate student, Dept. of Physical Sciences, Virginia Institute of Marine Science, College of William & Mary  (2001-2004) 
Certifications
Virginia Master Naturalist--Historic Rivers Chapter
What I Do
I am a long-term (23 + years) faculty member of the Geology Department.  Although my job is to teach geology, there are many projects with which I am involved:
Geology on Wheels:  I recruit and train geology students to teach K-5 lessons that satisfy Virginia Earth Science Standards of Learning (SOLs) in local elementary schools.  "GoW" has been running for more than 20 years and is considered one the early STEM outreach programs at W&M.  GoW is now connected to Historic Jamestowne through a geoarchaeology-type internship.  Geology majors teach visitors about the history and geologic relevance of artifacts found at the early English Settlement on Jamestown Island.
Curriculum Development:  Our new curriculum is driving creativity in the classroom.  I am spearheading the development of a new projects based geology course--something brand new for geology.  With major help from the geology faculty, the goal is to teach the fundamentals and core geologic concepts.
Career Development:  Tribe Partners is a new career development program through the Cohen Career Center designed to connect Arts & Sciences alumni with undergraduates.  A&S students can request help with resume writing, interview practice, etc. with a Tribe Partner.  I am the Faculty Liaison for the sciences responsible for increasing Tribe Partners membership.  In addition, I regularly work with geology majors in resume writing, LinkedIn profiles, and other tools to help find an internship or job.
Community Project--Crim Dell Invasive (Plant) Species Removal:  I have coordinated the Virginia Master Naturalists, W&M students, the Office of Community Engagement, the Committee on Sustainability, and Facilities Management in the removal of invasive plant species in the Crim Dell.  Planted invasives such as bamboo, English ivy, and wisteria have overgrown the Crim Dell.  Removal, erosion control, and re-planting with native Virginia plants are all parts of this on-going community project.
Teaching (Past/Current)
GEOL 101:  Dynamic Earth-Physical Geology
GEOL 110:  Earth's Environmental Systems-Physical Geography
GEOL 160:  Investigating the Earth-Introductory Geology Lab
GEOL 310:  Regional Field Geology (co-instructor of field-based courses in different areas of the U.S.--Texas, California, Hawaii)