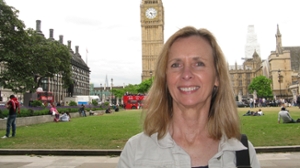 Linda D. Morse
Lecturer
Office: McGlothlin-Street Hall 213
Email: [[ldmors]]
Office Phone: 757 221 2447

Education
B.S. Geology,  Virginia Polytechnic Institute and State University (1983)
Graduate student, Dept. of Physical Sciences, Virginia Institute of Marine Science, College of William & Mary  (2001-2004) 
Certifications
Virginia Master Naturalist--Historic Rivers Chapter
What I Do
I have been teaching for over 26 years in the Geology Department. But, I also get students involved with community outreach projects that vary from year to year. Currently, the projects are:
James River Elementary Science Club: This is a great partnership with the school PTA.  The Science Club meets at James River at the end of the school day once a week for about 6 weeks each semester.  Our geology majors create and teach hands-on laboratory style lessons to 10-20 kids. Lessons in the past have included glaciers, buoyancy, how to ID trees, soils, using microscopes, local fossils, etc.

Crim Dell Restoration: This is a community project to remove invasive plants like bamboo, wisteria and English ivy from the Crim Dell pond area and re-plant with Virginia Coastal Plain natives.  The W&M Student Environmental Action Coalition (SEAC) organizes work days in the dell and invite Master Naturalists from the community and other student organizations to help. This is a long term project to keep the Crim Dell area naturally wooded and to attract the wildlife back onto campus.
Current Courses:
GEOL 160: Investigating the Earth – An Introductory Geology Lab (1 credit)
GEOL 250: Geologic Evolution of Virginia (3 credits)
GEOL 310:  Regional Field Geology (co-instructor of field-based courses in different areas of the U.S.--Texas, California, Hawaii)