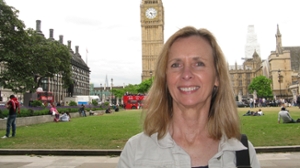 Linda D. Morse
Full Teaching Professor
Office: McGlothlin-Street Hall 213
Email: [[ldmors]]
Office Phone: 757 221 2447
Research Areas: Careers in Geosciences, Community Outreach, Student Mentorship & Teaching

Education
B.S. Geology,  Virginia Polytechnic Institute and State University (1983)
Graduate student, Dept. of Physical Sciences, Virginia Institute of Marine Science, William & Mary  (2001-2004) 
Certifications
Virginia Master Naturalist--Historic Rivers Chapter
What I Do
I teach, advise and mentor.
Academic Advising: Students usually "find" the geology major by taking GEOL 250. I help students map their courses, internships, and study abroad semesters as they progress through the curriculum.
Career Planning:  I help geology majors create a resume and a LinkedIn profile before applying to their first internship or job.
Teaching Opportunities for Students: I invite geology majors to help teach the GEOL 160 labs with me. This is a great opportunity to hone their speaking skills and get to know the science better by teach it.
Community Project:  I coordinate work days to remove invasive plant species in the Crim Dell. We have partnered with the Virginia Master Naturalists- Historic Rivers Chapter, the Committee on Sustainability (COS), Facilities Management and other student groups. We are currently planting native herbaceous and woody species. A bluebird trail has been established which will be monitored every spring. This project is constantly evolving. It remains one of the more natural places in the center of W&M campus.
Current Courses:
GEOL 160: Investigating the Earth – An Introductory Geology Lab
GEOL 250: Geologic Evolution of Virginia (GEVA)
GEOL 310:  Regional Field Geology (co-instructor to Texas, California, and Bahamas)