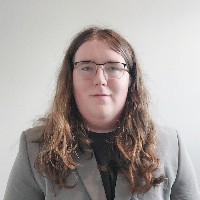 Kit Bauserman
M.A./Ph.D.
Email: [[babauserman]]
Equality Lab Affiliation: Graduate Assistant (2022-2023)
Research Interests: American Folklore and Folk Cultures; New Media Studies; Gothic and Horror Studies; Appalachian and Southern Studies; Creepypasta; Popular Culture

Biography
Kit Bauserman (they/them) is an M.A./Ph.D. student in American Studies. Their research interrogates how horror media offers unique ways of engaging with American cultural history. They find the avenues new media provides for interrogating the American cultural past especially intriguing. Particular topics of interest include gothic and weird horror podcasts, the relationship between folklore and folk cultures and popular culture, Creepypasta, and gothic subcultures. Their work has previously appeared in Dialogue and on the JHI Blog.
Education
B.A., Philosophy, Christopher Newport University, 2021