Morse to explore novel 'Black Beauty' in Tack Faculty Lecture
To hear Deborah Morse, inaugural Sara E. Nance Professor of English at William & Mary, speak about her beloved pets, it should come as no surprise she connected so much with the novel "Black Beauty." 
The book gives a voice and personality to horses, including the eponymous black gelding who, through his own narration, tells of his life through experiences of cruelty and kindness.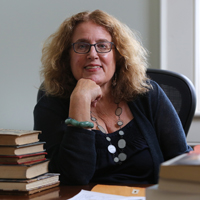 All animals should be able to tell their stories, Morse said. Her dogs Rafe and Phineas are members of her family, and although they cannot narrate their lives in the way Black Beauty can in the novel, they have their own methods of expressing emotion. 
If they could, they would certainly thank Morse and her family for rescuing them from their previous circumstances. 
"All along, we've rescued animals, and I think that's really where (my strong love of "Black Beauty") started—just thinking how individual animals are, how completely they are their own individual selves," Morse said. 
"Black Beauty," written by Anna Sewell and published in 1877, has been widely consumed as a children's novel, but Morse contends the book was so powerful it changed public consciousness on many levels, particularly in the field of animal rights. 
Morse, who has written extensively on the subject, will discuss this topic in the fall 2019 Tack Faculty Lecture, "Liberating Black Beauty: A narrative on animal rights, gender, race and nation," on Oct. 23 at 7 p.m. at the Sadler Center's Commonwealth Auditorium. The event is free and open to the public with a reception to follow, and attendees are asked to RSVP.
"It's interesting to read it on all those levels, to read it as a book that's about the rights, really, of all creatures," Morse said.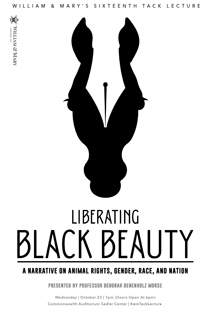 Morse, who teaches a popular animal studies class in the spring called Victorian Animal Dreams, has read everything ever published about "Black Beauty," and she has written about the novel in an assortment of published works, including the book "Victorian Animal Dreams: Representations of Animals in Victorian Literature and Culture" with co-editor Martin A. Danahay.  She also just published an essay on "Black Beauty" this summer in the Cambridge volume "Animals, Animality, and Literature." 
Her book with Danahay "has become like a classic of animal studies criticism. We had no idea it would have this enormous impact," Morse said. "I guess I've become an animal studies scholar, and I really do love it." 
Morse says "Black Beauty" was originally written by Sewell to teach working class men how to guide and care for their horses. It has been critiqued in many other ways, however. 
"It is now taught mostly in animal studies courses, but it can be read as an enslaved person's narrative, and is in fact much influenced by the Quaker abolitionist movement, as Sewell was a Quaker," Morse said. "It can also be read as a feminist narrative, as women and girls stand up for the right treatment of animals throughout the book." 
Morse has collected more than 20 unique copies of "Black Beauty." She loves to look through the diverse assortment of book covers, each one representing a different layer of the novel. 
Some illustrate Black Beauty as a regal stallion. Others depict him as a beaten down gelding. Some show Black Beauty and his friend, Ginger, standing tall together. 
"Some of them emphasize identification within companionship. The whole title of the book is "Black Beauty: His Grooms and Companions." In the end, he doesn't dream of his grooms. He dreams of his fellow horses," said Morse, as she scrolls through a gallery on her computer of her Black Beauty book covers. "I am kind of obsessed as you can see." 
Morse has been widely heralded throughout her career. She was awarded the inaugural Devin and Jennifer Murphy Outstanding Integration of Research and Teaching Award, the Phi Beta Kappa Excellence in Teaching Award, Thomas A. Graves Sustained Excellence in Teaching Award, and a Plumeri Faculty Excellence Award. She was also one of three inaugural University Teaching Professors.
The Tack Faculty Lecture Series is made possible through a generous commitment by Martha '78 and Carl Tack '78. Initially launched in 2012, the Tacks' commitment has created an endowment for the series of speakers from the W&M faculty.