Undergraduate Chemistry Scholarship Endowment Established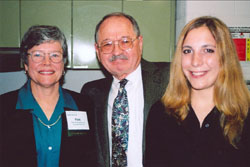 The Department of Chemistry was honored to receive an endowment this past fall to provide support for an entering freshman planning to major in chemistry.
The Patricia Pound Barry Chemistry Scholarship, in honor of Patricia Pound Barry (Class of 1963) was provided by Patti and Marshall Barry (Class of 1961) to recognize an outstanding entering freshman with a scholarship to support their tuition and fees. One freshman will be awarded a scholarship every fall semester with continued support over four years.
Patti graduated with an American Chemical Society certified degree in 1963. She was also a member of Mortar Board, Chair of the Women's Honor Council, a President's Aide, and the recipient of the Algernon Sidney Sullivan award. After graduation she worked for three years as an Organic Research Chemist at Abbott Laboratories. Nearly ten years later, she entered medical school as one of only three women in her class, and upon graduation, she was awarded the Dean's Prize as her class' outstanding student and chosen for the medical honor society, Alpha Omega Alpha.
In her medical career, she became board certified in Internal Medicine and in Geriatrics, and was elected by her peers to the presidency of the American Geriatrics Society. She became a full professor and Chief of Geriatric Medicine at Boston University School of Medicine where she also earned her MPH degree specializing in Epidemiology and Biostatistics. In 2006 The American Geriatrics Society awarded her the prestigious AGS Nascher-Manning Award for her "... distinguished, life-long achievement in clinical geriatrics." After retirement from Boston University, she created and administered the Merck Institute of Aging and Health, an international research and geriatric education foundation from 2000-2005. She has numerous publications and presentations to professional associations.
Patti has always credited her education at William and Mary as the foundation for her achievements. Her continued contact with the College includes membership in the President's Council, the Fourth Century Club, a board member of the Fund for William and Mary, and current President of the Advisory Board for Graduate Studies in the Arts and Sciences.
The department looks forward to utilizing the Patricia Pound Barry Endowment to attract and train future scientists for many years to come. Support from our alumni is paramount to the continued success of the department and our students. The involvement of alumni in the future of the College, as demonstrated by the commitments of Patti and Marshall Barry, reassures us that William and Mary will be in good hands for generations to come.