Department Continues Tradition in National ACS Rankings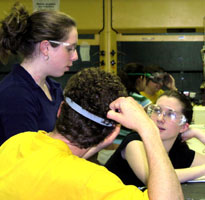 Graduation statistics recently issued from the American Chemical Society (ACS) indicate that the Department of Chemistry at William and Mary continues to excel in the number of chemistry degrees awarded to our majors.
For the 2004-05 academic year, the department ranked 22nd overall for the total number of majors (57) and 5th for the number of ACS certified degrees (49) out of 634 schools nationwide with certified ACS programs. This is a truly phenomenal statistic given the overall size of the W&M undergraduate program (~5500) compared to the other schools in the top five, including the U. of Texas, U. of North Carolina, U. of California-San Diego, and the U. of Michigan.
The ACS certified degree requires a specific core of approved lower level and advanced level courses and laboratory experiences, including a minimum of three credits (or over 180 hours) of independent senior research. The department currently offers specialized certified degrees in biochemistry, chemical physics, and polymer chemistry as well, and is reviewed every five years by the ACS for recertification. Over the past 20 years, the department has averaged 45 total majors per year.
Although senior research is not a requirement for the chemistry degree, much of that interest is generated by the department's 10 week summer research program, which annually attracts between 45-50 William and Mary chemistry majors every summer to perform independent research under the guidance of a faculty member, and allows students to go into the senior year well prepared to continue their summer research projects. Numerous undergraduates are ultimately included as co-authors in peer reviewed publications as well as presentations at scientific meetings based in part on their research results.