Professor Pike's CHEM 103 among the Best Nationwide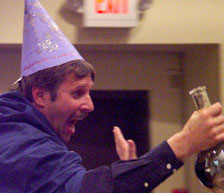 An undergraduate course at William and Mary was singled out in a national study of chemistry courses conducted by the Center for Educational Policy Research (CEPR) on behalf of the College Board.
The CEPR identified General Chemistry I/ Descriptive Inorganic Chemistry, taught by Professor Robert Pike, as one of the top examples of best practices in chem courses nationwide. It's listed as CHEM 103, an introductory course for science and pre-med majors.
"I guess I'm on my sixth go-round of teaching this course," Pike said. He added that the course was evaluated based on materials including a syllabus, exams and problem set that he submitted in spring, 2005. "Any recognition the course received had relatively little to do with the way I teach it. It's kind of ironic, because my favorite parts of the class are the demonstrations. Students enjoy them too. You know-the bangs and fire and things."
Odile Stout, research team leader at the CEPR, said Pike's course was one of 23 cited for best practices out of 166 chemistry courses examined nationwide. The CEPR was commissioned to examine a number of college courses by the College Board, the organization behind the SAT. The College Board also administers Advanced Placement (AP) exams for high school students and the suggested curricula for AP courses in high school.
"The study sought to identify best practices college courses that could inform the redesign of AP courses in chemistry," CEPR Director David T. Conley wrote in making the announcement. "The goal of the redesign process is to ensure that AP courses reflect the best of college teaching."
Conley's announcement explained that CEPR assembled a panel of national experts to review the nominated courses and identify the critical components of best practices present in each course.
A commission in chemistry convened by the College Board will meet over the current academic year to develop new course descriptions and exam specifications for AP courses.
Stout said that additional details of the CEPR study, including specific aspects of Pike's course found to be noteworthy, will be released later by the College Board. The CEPR is based at the University of Oregon.
Pike is teaching another section of Descriptive Inorganic this semester to a full house of 155 students. "Even at the most basic level, I enjoy teaching this course," he said. "We fit a whole lot of science into one semester."