Brian Lottig '98 Puts His Chemistry Degree to Good Use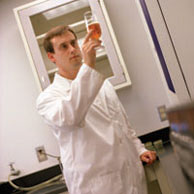 Like many undergraduates, Brian Lottig '98 came to college with his mind focused on two things: academics and beer - a combination that he has turned into a successful career as a brewmaster.
During a career day field trip with his Rocky River, Ohio, high school to Cleveland-based Great Lakes Brewing Company, Lottig fell in love with the art of making beer. Shortly thereafter he got his first job at that same brewing company, washing kegs by hand. And it is the same company where he is now the brewing and quality control manager - or brewmaster.
"I definitely knew going into college what I wanted to do," Lottig says. And what he wanted to do was get a degree in chemistry from William and Mary.
While still in high school, a brewmaster told Lottig he should focus on chemistry if he wanted a career in making beer. So Lottig took advantage of the College's rigorous academics to learn as much about chemistry as he could, graduating with departmental high honors. But every summer, when he was away from his textbooks and lab work, Lottig was back home in Ohio washing kegs and learning how a brewery operated.
William and Mary's reputation, and his hard work, served him well. In October 1998, Lottig traveled to Scotland, where he was accepted into the prestigious International Center for Brewing and Distilling master's program at Heriot-Watt University in Edinburgh. The program is one of the few English-speaking master's programs for brewing in the world, and competition to study there is fierce. Upon his arrival, Lottig found he was one of approximately 20 students who had been accepted - and the only student from North America.
He spent the next year taking courses in subjects ranging from chemical engineering to organoleptic studies - which means tasting - and doing research in various brewing processes. In November 1999, Lottig received his master's degree in brewing and distilling from Heriot-Watt, graduating at the top of his class. He returned to Great Lakes Brewing Company to work as a consultant to its brewmaster - but he wouldn't be a consultant for long.
In April 2000, Great Lakes' brewmaster left to work for a different company on the East Coast, and Lottig's years of academic efforts and summers of backbreaking work finally paid off. Less than two years after graduating from William and Mary, he was in charge of crafting beers for Great Lakes - one of the most respected breweries in the United States.
The Great Lakes Brewing Company was founded in 1988, which makes it one of the rare success stories in the crowded world of microbreweries and brewpubs that have entered the American market in recent decades. There are currently about 1,500 breweries in the United States, if you include restaurants producing their own beer, and that number is constantly shifting as new breweries open and existing ones go out of business. So, Lottig was lucky to have found a position with an established company. But not content to rest on his laurels, he set to work making changes.
When he became brewmaster, Great Lakes was producing 15,000 barrels - or 465,000 gallons - of beer annually. An impressive amount, but Lottig felt sure he could increase the brewery's output without diminishing the quality of its product. Using a combination of new techniques and new technology - including automation - Lottig has increased production to the point that he expects Great Lakes to produce over 30,000 barrels of beer in 2005.
But the quantity of beer takes a backseat to the quality of the beer, and the Great Lakes Brewing Company has received rave reviews about its product. Arguably the world's most famous beer critic, Michael Jackson (not the pop star), listed the brewery's Dortmunder Gold Lager as one of the "Ten Great American Beers" in 2002, while the Edmund Fitzgerald Porter and Eliot Ness Amber Lager have each won multiple gold medals at the annual World Beer Championships. While Great Lakes beer is not available in some states (including Virginia), you can learn more about it by visiting www. greatlakesbrewing.com.
William and Mary played an important role in his rise to the top of his field, Lottig says, explaining, "The professors at William and Mary taught me how to learn and how to apply what I've learned in novel situations."
Lottig has also found time for life outside of work and beer. He is married to his college sweetheart, Haley Stone Lottig '98, and is now back in school, studying for his master's degree in industrial engineering at Cleveland State University. Even with such a busy schedule, he says he finds time for home improvement projects, playing with his dogs, and occasionally a little home-brewing.