Capelli Cove named in Honor of Retiring Professor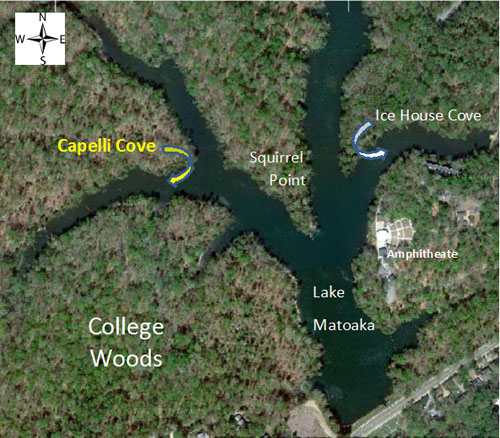 The Board of Visitors approved a resolution to name an arm of Lake Matoaka "Capelli Cove", during its regular spring meeting last week. Capelli Cove is one of the more isolated arms of the lake, and known by local biologists for its clear, clean water supporting diverse wildlife. This is a fitting tribute to Dr. Gregory Capelli because he spent so much time in that cove and its tributary stream studying amphipods, aquatic insects, and fish. He loves that stream and every semester gave students the chance to explore this beautiful part of the William and Mary campus. If you're going to follow in Greg's footsteps you're going to have to get your shoes wet.
Below is the full text of Resolution 32, entitled "Naming of Capelli Cove in Lake Matoaka" submitted to the Board of Visitors by the Building and Grounds Committee and passed on April 27, 2012.
COLLEGE OF WILLIAM AND MARY
NAMING OF CAPELLI COVE IN LAKE MATOAKA
WHEREAS, the College of William and Mary acknowledges the pending retirement of Professor Gregory M. Capelli from the Department of Biology after 37 years of tireless service; and

WHEREAS, colleagues and students alike have been deeply impacted by his keen intellect, wisdom, and compassion; and

WHEREAS, throughout his career, he has been a tireless champion of efforts to preserve the College Woods and Lake Matoaka for not only teaching and research, but as a place for quiet reflection; and

WHEREAS, Dr. Capelli was instrumental in the establishment of the Keck Environmental Field Laboratory on the shore of Lake Matoaka; and 

WHEREAS, Dr. Capelli's interests in aquatic ecology have led him and his students to explore,  study and enjoy Lake Matoaka, using the lake and its tributary streams as living resources for instruction and for research; and

WHEREAS, the flooded ravine west of Squirrel Point and surrounded by the natural preserve of the College Woods forms a protected cove environment in Lake Matoaka for many species including largemouth bass, ospreys, bald eagles, and nesting great blue herons;

THEREFORE, BE IT RESOLVED, That the Board of Visitors of the College of William and Mary honors the legacy of Professor Gregory M. Capelli's service to the College and its students by designating this body of water in Lake Matoaka as "Capelli Cove." 

Download Resolution 32 "NAMING OF CAPELLI COVE IN LAKE MATOAKA"