Joseph Dye '67
"No one will ever know what you are talking about."
So Joe Dye '67 recalls being told when he decided to specialize in Indian art in the late 1960s. Luckily he ignored that warning.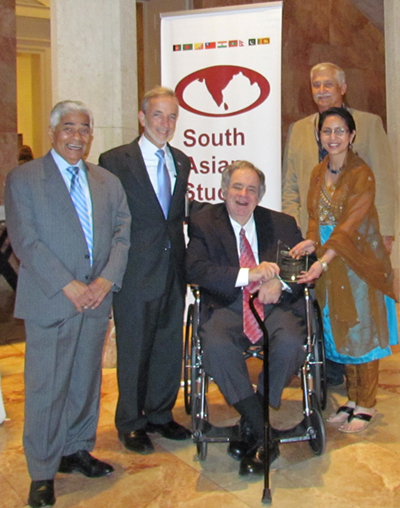 Joe first saw William and Mary while visiting an uncle at Fort Eustis. He immediately decided to apply, was accepted, and enrolled the following year. As a history major (specializing in the history of the American South) Dye described his entry into art history as the serendipitous result of taking a survey course taught by Professor Richard Newman. This introduction was followed by a "crash course of studies," taking all the art history and fine arts requirements in two years.
A course on Indian art taught by Professor Carl Roseberg inspired Joe to apply to the Institute of Fine Arts (New York), where he studied Indian art. Hired by the Virginia Museum of Fine Arts after graduation, Joe has published on the art of India, Nepal, and Tibet and has helped to organize several major exhibitions of Indian Art, including: "Manifestations of Shiva," for the Philadelphia Museum of Art, "The Romance of the Taj Mahal," for the Los Angeles County Museum of Art, The Virginia Museum of Fine Arts, and the Toledo Art Museum; and "Mystic Visions," and "Worlds of Wonder and Desire: Indian Paintings from the Virginia Museum of Fine Arts", both from that museum's permanent collection.
Every Wednesday afternoon from 1987 to 2009 Joe commuted from Richmond to William and Mary, where he taught a rotation of courses — the Art of India, the Art of China, and the Art of Japan — to a full section in Andrews 101. He retired from the Virginia Museum of Fine Arts in 2009. In 2011 he received an award from the South Asian Studies Association. "Indian art provides a wonderful opportunity to open a window on a large and fascinating part of the world, " he says. "Indian culture is terribly underappreciated in the West, especially in North America."
Note: Portions of this text appeared in Style Weekly (Richmond's alternative for news, arts, culture and opinion), December 5, 2001.