Tomos Llywelyn Evans Awarded Dumbarton Oaks and Smithsonian Fellowships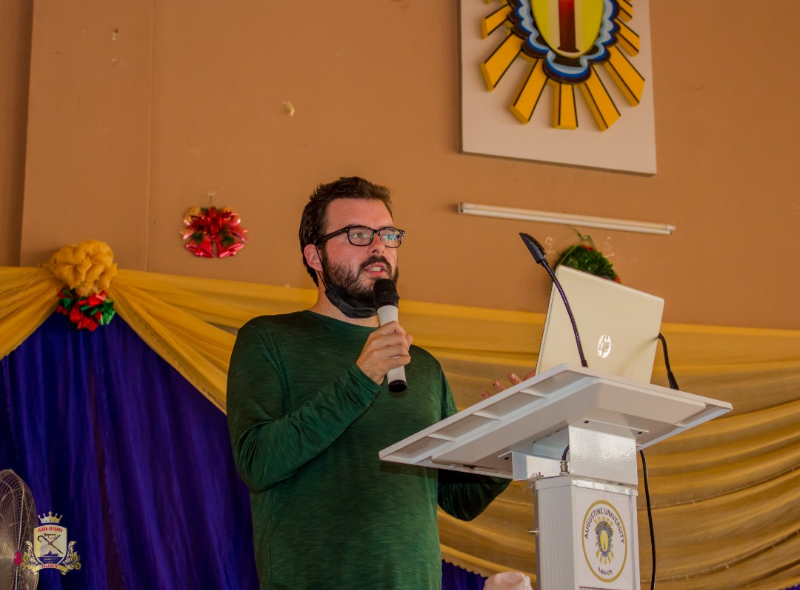 6th year Ph.D. candidate Tomos Llywelyn Evans was recently awarded two prestigious fellowships in Washington, D.C. – a Junior Fellowship in Garden and Landscape Studies at Harvard's Dumbarton Oaks, and a Smithsonian Institution Predoctoral Fellowship at the National Museum of African Art (NMAfA). Tomos will be carrying out the fellowships consecutively, in September 2023 to May 2024, and May 2024 to November 2024 respectively. The fellowships will provide Tomos with library, archival, and material cultural collections that will be important in informing the final stages of his Ph.D. research and writing pertaining to the archaeology of the Sungbo's Eredo landscape in southwestern Nigeria. Tomos's friend and fellow cohort member Chardé Reid recently sat down with him to discuss his archaeological work in Nigeria, and the directions that he will take his research in during his fellowship tenures at Dumbarton Oaks and the Smithsonian.
Tomos talked to Chardé about the Sungbo's Eredo earthwork, a significant yet lesser-known structure not far from Lagos, Nigeria, and one of the marvels of West African historical architecture and earthen engineering. "Sungbo's Eredo is an earthwork 100 miles in its circumference in southwestern Nigeria. It's a very large bank and trench, encircling a particular area of territory within the lands that were controlled by the Ìjèbú polity, including in the deeper past." Dumbarton Oaks is a Harvard University research institute, library, museum, and garden, specializing in garden and landscape studies, among other topics. While there, Tomos will be drawing from its extensive library collections pertaining to designed landscapes in West Africa and elsewhere to strengthen his analysis of the ways in which past and present Ìjèbú communities have engaged with, shaped, and understood the Eredo landscape: "When we're thinking about questions of landscape, designed landscape, and the concepts and ideologies surrounding landscape, there are a lot of very basic things about the Eredo that are not well understood" Tomos argues. Previous scholarship has discussed theories of how the Eredo may have been used in the deeper past including as "a wall to protect the old Ìjèbú kingdom, of regulating people going in and out." However, "a lot of what was often said in the literature, for instance in the 1950s when the first academic publication came out about this feature, was that to local people it was something that had essentially been forgotten: a strange ruin that people no longer had deeper memories of, that wasn't particularly important to local communities."
Despite this, Tomos's research has documented a number of features that indicate the continued importance of the Eredo landscape in subsequent centuries, long after its original period of construction and use (in the 15th century at the latest). "A lot of the work that I've been doing, and that the larger [Ife-Sungbo] project has been doing, has in fact identified that there are several places of significance connected with the earthwork: shrines, sacred groves, particular tree species intentionally grown there, and large mounds associated with the entranceways and exits of the earthwork that appear to have been in use in more recent times." Based on his investigations of this material evidence as well as associated modern practices, Tomos is suggesting that there is a continued importance of this earthwork and its surrounding landscape in people's lives, and in the politics of the Ìjèbú polity beyond its earliest period of use. By investigating some of these mounds and shrines, Tomos is looking to learn more about "how people thought about this very large earthwork, the role it played in people's lives, how it influenced the trajectory of the polity. And also, how there might be new ideas, reinterpretations, and new engagements here over time – an evolving significance of Sungbo's Eredo."
Chardé questioned Tomos further on how Dumbarton Oaks's interdisciplinary approach to landscape will be useful in informing and refining his analysis of the Eredo landscape. "A theoretical area of focus at Dumbarton Oaks that I'm interested in thinking about is identifying intentionality, different ideas, different ideologies, and the role of ontology in the shaping of these landscapes." The investigation of how the Eredo landscape has been carefully designed and shaped over the centuries contrasts with tropes inherited from the colonial period manifest in literature and scholarship that have represented African landscapes as untouched, pristine wildernesses. "There are different spins on this trope, but it all comes down to the same idea: that people were not intensively shaping the landscapes around them, and that landscapes in Africa were governed more by natural forces than by the agency of African communities. In contrast, the work that we've been doing in this region has revealed earthen engineering on a scale that is pretty unprecedented on a global scale. This includes the landscape that we're working at around Sungbo's Eredo, and the Benin and Ishan landscapes further east where there are thousands of miles of such earthworks." Tomos's recent work with Colonial Office documents held at the National Archives in London has uncovered occasional mentions of earthworks by British observers during the 19th century, which exemplify the contrast between colonial representations of African landscapes versus the realities of how Africans used and understood them on the ground. "They'll [British observers] see earthworks that have many different trees and other foliage growing over them, and there's this immediate assumption that they've been abandoned and forgotten. I'm seeking to problematize that assumption – there were reasons why these spaces within the landscape were developed in this way by the people living in their vicinity."
To better understand some of these landscape modifications over the centuries and the ideologies underpinning them, Tomos will be drawing from several archival and material cultural collections at the Smithsonian, including from the Eliot Elisofon Photographic Archives at the NMAfA, and the Yorùbá and Edo art collections of the NMAfA and National Museum of Natural History (NMNH). "The main people whose very large photographic archives I'll be looking at are art historians John Pemberton III, Margaret Drewal, and Henry Drewal. There's relatively little published on Ìjèbú and the various different religious practices, the different arts, the different festivals in the region. These art historians recorded a lot of this, and there are many photographs and descriptive records deriving from their work." Tomos will also be studying some of the symbolism represented across different objects from the NMAfA and NMNH collections to better grasp the uses and meanings of these items, and their composite interactions with the world around them according to Ìjèbú ontologies. He hopes that these materials will thus help improve his understanding of Ìjèbú arts and religious practices, that will contribute to understanding the multi-layered symbols present in the Eredo landscape.
Tomos is indebted to various mentors, collaborators, and colleagues for their generous support of him, which was instrumental in getting him to this stage of his doctoral work. He is immensely grateful to his Ph.D. committee – his co-chairs Dr. Neil Norman and Dr. Gérard Chouin, Dr. Grey Gundaker, and his external committee member Dr. Akin Ogundiran, all of whom have consistently offered Tomos their invaluable mentorship, feedback, and support in conducting research and applying for grants and fellowships. His work has relied heavily on his collaboration with the Ife-Sungbo Archaeological Project, most notably co-director Professor Adisa Ogunfolakan, head of logistics Mr. Joseph Ayodokun and Ph.D. students Emmanuel Adeara and Stanley Osinachi who collaborated with him during excavations. His work was also supported by the generosity of the local authorities in Ilara-Epe, Lagos State, especially the Alara of Ilara HRM Oba Olufolarin Olukayode Ogunsanwo and the leadership at Augustine University, Ilara-Epe who have kindly hosted Tomos during his fieldwork over the years: most especially the Vice-Chancellor, Professor Christopher Odetunde, and the Registrar, Mrs. Margaret Itohan Aziba. Tomos is grateful for the friendship, support, intellectual feedback, and good company of his friends at William & Mary – both within the Anthropology Department and beyond – as well as to its wonderful members of faculty for their mentorship over the last six years.