Romantic passion, social justice and the Brontës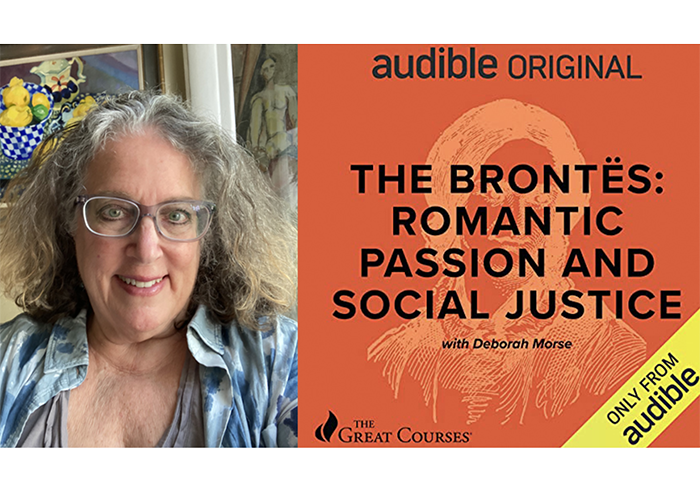 For years, Professor Deborah Denenholz Morse's classes on Victorian fiction and the Brontës —the famous literary sisters whose works were published form 1846-1855 — have been popular with W&M students from a variety of majors.
Now, anyone can experience Morse's fascinating lectures through her new course on Audible, "The Brontës: Romantic Passion and Social Justice." The 10-session series was produced by The Great Courses.
In her lectures, Morse discusses how the Brontës represented the social issues of women's rights, enslavement and abolitionism, and animal welfare in their novels, including "Jane Eyre" and "Wuthering Heights." 
"The revolutionary energies of Romanticism impelled the Brontës' urge for social justice in their society. As members of an abolitionist family, the Brontes used the language of abolitionism while inscribing the struggle against enslavement in their fiction. They were also deeply concerned about the oppression of women and cruelty to animals—and they saw connections among all of these issues," she says.
Morse joined the faculty of William & Mary in 1988. Since then, she has won a number of awards for her teaching, including the Phi Beta Kappa Excellence in Teaching Award, Thomas A. Graves Award for Sustained Excellence in Teaching, inaugural Jennifer & Devin Murphy Faculty Fellowship for Outstanding Integration of Research and Teaching and Plumeri Faculty Excellence Award. She was also an inaugural University Professor for Teaching Excellence.
She has published extensively on the Brontës and other Victorian fiction, including "Victorian Animal Dreams: Representations of Animals in Victorian Literature and Culture" with co-editor Martin A. Danahay, which is the basis of her popular animal studies class in the college-wide liberal arts curriculum, ENG 380/COLL 200, "Victorian Animal Dreams."
She is currently the inaugural Sara E. Nance Professor of English, a professorship established by Judy Poarch Nance '69 and Peter Nance '66 in memory of their daughter Sara. Their support for innovative research and inspiring teaching allows Morse to conduct research in England that she infuses into her lectures and published works.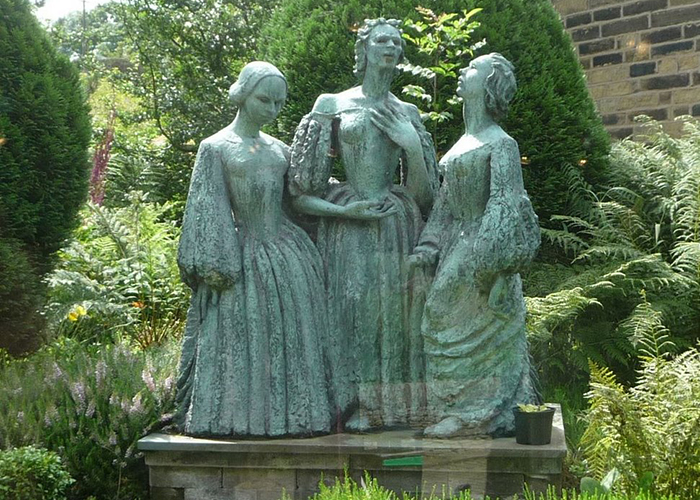 "I was just overjoyed to receive the professorship, which has provided all kinds of support for my travel," says Morse. "To have these resources for my research makes a tremendous difference, and I am looking forward to returning to London this summer, now that travel restrictions for the pandemic have lifted."
Some of the material for her new The Great Courses lecture series came from her inaugural Nance Lecture during Homecoming & Reunion Weekend 2018. The lecture, "Resistance, Art and Animals in Anne Brontë," was open to the public and had some very special guests in the audience: the Nances and their family.
"Meeting them and being able to thank them in person for their generosity was one of the most moving experiences I've had at William & Mary," says Morse. "They are wonderful people."
Working on these lectures for The Great Courses also inspired Morse to pursue new avenues of research. For example, she discovered that certain descriptions of Heathcliff in the novel "Wuthering Heights" are similar to descriptions of the abolitionist Frederick Douglass. Douglass was in England right before Emily Brontë started writing her novel, the narrative of his escape from slavery was a bestseller and the articles about him were widely circulating at the time. Morse's latest project explores this connection as furthering the argument that "Wuthering Heights" is an abolitionist text.
While this is the first audio-based course for the general public Morse has created, other William & Mary professors have created similar courses. For example, through The Great Courses, you can hear Phil Daileader's lectures on the Middle Ages and the Crusades through The Great Courses, Peter Vishton's classes on human perception, "hacking" your brain, raising kids who thrive and developing your memory, and Barbara King's course on biological anthropology.
"Distributors like The Great Courses come to William & Mary because they know we have wonderful courses here that people of all ages would be interested in," she says.
She is excited for this opportunity to engage the public with the humanities, as well as to connect in a new way with W&M alumni.
"Many of my former students have told me they are excited for the courses so they can listen to them with their families — especially young women who read the books with their mothers when they were in my courses and are now reading the novels with their own daughters," she says.
Morse says she feels lucky to be able to share the research she is passionate about with her "amazing" W&M students and with the wider world.
"It was a lovely experience to record the lectures with people who also cared deeply about my work," she says. "I don't usually teach in a formal lecture style, except when I present to peers at conferences. Bringing my class material together into this 10-lecture format was a fun and challenging learning experience, and I would love to do another course like this in the future."