APIA faculty research award recipient will study community response to green energy projects
When William & Mary faculty member Andrea Wright researched the migration of workers from rural India to oil projects in the Arabian Peninsula seeking better wages, she was reminded of her maternal grandfather's life. Born in a rural Pennsylvania town, he transitioned from working in a coal mine to a Pittsburgh steel factory, then to an auto assembly line in Detroit and later to becoming a police officer.  
"Stories I heard as a child about his work probably helped shape my interest in working conditions and labor and how people get to where they are," she says.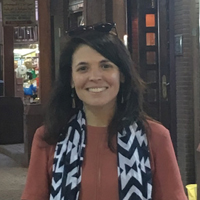 Wright, an assistant professor of anthropology and Asian and Middle Eastern studies since 2016, recently became the inaugural recipient of the Jinlan Liu Asian and Pacific Islander American Studies (APIA) Faculty Research Award. She plans to use the funds to support a research project focused on the impact of green energy projects on people's lives in India, Kuwait and Virginia.
"What I'm interested in learning more about is how people in specific communities understand their obligation towards the environment and how important the future of the environment is in comparison to immediate financial concerns," Wright says.
As she looks forward to her new project, Wright is also celebrating the release of her book "Between Dreams and Ghosts: Indian Labor Migration and Middle Eastern Oil" this month by Stanford University Press. It follows the migration of laborers from India, Pakistan and the Philippines who sought work at oil production sites in the Persian Gulf and looks at how social inequalities affect them. Using their earnings, some of these workers then moved to the United States or Canada, or sent their children to North American universities.
Because she is the first recipient of the APIA faculty research award, Wright (shown at right) will have the award for four years as the proceeds from the endowment are growing. Future awards will be given for a period of three years. The first award's first disbursement coincides with William & Mary's Asian Centennial, commemorating the admission of the first Asian student in 1921.
Jinlan Liu P '16 and Dr. Han Zhang P '16 established the Jinlan Liu APIA Faculty Research Endowment in 2019, in response to their son's experience at William & Mary. As an undergraduate, Benming "Benny" Zhang '16, J.D. '20 designed his own Asian American studies major and wrote his senior thesis about Arthur A. Matsu '27, a star quarterback and football team captain who was the first American student of Asian heritage to attend William & Mary.
Zhang presented his thesis on Matsu on May 4, 2016 — one day after winning election to Williamsburg City Council and witnessing the vote approving Asian & Pacific Islander American studies as a minor during a Faculty of Arts & Sciences meeting. APIA studies became an official minor in 2016 and a major in 2019. William & Mary's APIA program became the second one in the South, joining the University of Texas, Austin, and it is the only degree-granting program of its kind in the Southeast.
Support for APIA studies
When announcing the endowment, Zhang's mother described it as a step toward providing greater opportunities for research related to the Asian American community. In her speech, Jinlan Liu talked about arriving in the United States 30 years ago from China with almost no money. Zhang's father had traveled to America in 1988 as part of a one-year exchange program at Johns Hopkins University's Department of Pediatric Surgery, sponsored by the United Nations Children's Foundation. The next year, his flight to China was canceled because of the Tiananmen Square massacre, a violent crackdown by the Chinese government on student-led, pro-democracy protests.
Liu joined her husband in 1990 and they decided to remain in the U.S. She studied to become a registered nurse and he passed his licensing exam to practice medicine. They opened a clinic in New York City, where many of their patients are immigrants as well.
Like many of the migrating workers Wright has studied, the couple sought to provide high-quality educational opportunities for their two children. Liu noticed that Benny Zhang and his sister, Maggie, lacked exposure to curriculum about the history and culture of people with Asian heritage. After Liu watched her son present his senior thesis on Art Matsu at William & Mary, she and Han Zhang decided to support the university's Asian American studies by contributing toward a one-year extension of the contract for Benny Zhang's faculty advisor, Benedito Ferrão.
By establishing the faculty research endowment, the family ensures a continuing source of funds for APIA research at William & Mary. Liu expressed the hope that the endowment "will further disseminate America's complex history with Asian Americans and provide solutions for the challenges Asian Americans face today."
Faculty members engaged in APIA studies are eligible to receive research grants from the endowment, which is funded through the Han Zhang and Jinlan Liu Family Foundation.
Deenesh Sohoni, director of Asian & Pacific Islander American Studies at William & Mary, says the program depends on faculty members such as Wright from other departments who support APIA studies by teaching interdisciplinary classes and conducting research. Wright, for example, works with many APIA students on capstone projects during their senior year.
"Andrea stood out because she does interdisciplinary work that is not situated in one geography," Sohoni says. "She studies Asia, but she also studies Asians in other countries, and so she captures a more holistic look at migration."
For her project in a COLL 400 Capstone class taught by Wright, Zoe Marquez '21 researched the mental health of Asian American students at predominantly white institutions. At Wright's suggestion, she created a podcast to present her findings.
"Research can be a very daunting task, but Professor Wright was able to break it down into smaller pieces for us to complete throughout the semester," says Marquez, who appreciated the encouragement Wright provided along the way.
"It's easy to find a professor who can teach students about the class material, but it is very rare to find a professor who will teach you how to care," she says. "Especially in the middle of a pandemic, every person has different experiences and requires different needs, and Professor Wright was always willing to meet her students halfway." 
Wright says she anticipates she will involve students in her new research project with help from the Jinlan Liu APIA Faculty Research Award.
"APIA majors are very engaged and applied in their perspective, and I've learned a lot about APIA communities, particularly in Virginia, from them," she says. "I'm excited to work with students to learn even more."
Hands-on research
While it would be expensive and logistically difficult for her to travel with students to the Middle East given various countries' pandemic-related requirements, Wright says there are opportunities in Virginia to explore the environmental and financial impacts of energy and infrastructure projects. By visiting communities, talking to residents and attending local government meetings, students also will be able to investigate how race relations, economic inequalities and historical narratives affect project planning.  
"We can think about Asian American communities and Middle Eastern American communities, and as well as Black Americans and white Americans, and how we all are building a future together in Virginia around these green energy practices," Wright says. "Based on my work with students, I know there's a lot of interest in community movements, climate change and social justice. This is a topic that pulls a lot of those threads together."
For example, Wright has studied the response to a proposed commercial-scale solar panel project in Culpeper, Virginia, and two proposed natural gas plants in Charles City County, southeast of Richmond, Virginia with co-researcher Elizabeth Kelley, a Washington, D.C.-based anthropologist and director at Illume Advising. They presented their research on these projects last year at the European Association of Social Anthropologists conference. 
"I was interested in how each of those projects were being talked about by the communities in which they were being planned," Wright says. "It was also a time in the United States when we were talking about the connection between environmental justice and racial justice."
Wright's research explored how decisions are made about what kinds of energy projects to build and where they should be located.
"It's a complicated process, and it's useful for students to see the complexity of social interactions within communities and how politics and energy needs influence infrastructure plans," she says.
Charles City County is a majority minority community where household income is below the state average. Culpeper, on the other hand, is a majority white community with household income above the state average. 
Culpeper residents mobilized against the solar panel project and invoked the need to preserve Civil War sites, although the panels would not have been located on those sites. 
"One concern was obstructing the view in the landscape," Wright says.
In Charles City County, residents also rallied against the power plants, expressing concern about air pollution, while county government leaders said the plants would bring needed tax revenue. Plans for one of the projects have been withdrawn, but the other is still moving forward.
"When I was looking at this activism around environmental justice in Charles City County, one of the things I was struck by is how community membership is defined and what groups joined together," she says. "I'm interested in how communities work together to shape Virginia's future."