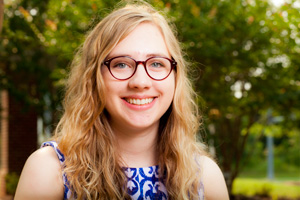 Brianne Charnigo
Animator & Multimedia Producer
Email: [[btcharnigo]]
Phone: (757) 221-1015

Background
Growing up, I was a pretty crafty child. I loved making things, whether they were playdough sculptures, silly doodles or gigantic sidewalk chalk murals. I was the first of my siblings to get my own camera, and I drove my parents crazy with constant requests for more film. Like many children, I was a huge Disney fan and I probably spent an unhealthy amount of time watching animated movies, especially 101 Dalmatians.
When I began attending Lycoming College, I knew I wanted to do something creative, but I wasn't sure what. Experimenting with different classes helped me realize that I really enjoyed making things that move, which eventually led to my degree in Digital Media Communications with minors in commercial design, photography and Spanish. I found that animation allowed me to touch on a lot of different creative areas, which really appealed to me, being as indecisive as I am. During my time as a student, I worked with my peers as a tutor, teaching assistant and president of my campus filmmaking club. I also worked two summers in a row as an intern at the Little League World Series, where I operated an on-field camera.
After graduating from college, I spent 5 months working as an intern for the video department at the Philadelphia Union, a Major League Soccer team, where I made videos and animations that are used online and on the video board in the stadium. After my internship came to an end, I spent a few months working on freelance animation projects and I am so excited to now be working here at William & Mary.
Personal Stuff
In addition to animation, I love cats, cheese is my favorite food and I would love to someday have an alpaca. I also love to go on adventures. In my free time, I still watch an unhealthy amount of Disney movies and make messy art projects.