Roberto Jamora
Asian Centennial Distinguished Fine Arts Fellow in Residence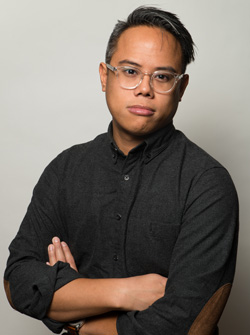 Roberto Jamora is a Filipino American visual artist and educator based in Richmond, Virginia. He holds an MFA from Purchase College, State University of New York and a BFA from Virginia Commonwealth University. He teaches at Virginia Commonwealth University and William & Mary.
Roberto is working on a series of abstract paintings titled "An Inventory of Traces" which explores how color and shape trigger memory.
He has participated in Artist-in-Residence programs at Virginia Center for the Creative Arts, Joan Mitchell Center, Ragdale Foundation and Sambalikhaan Foundation.
His artwork has been exhibited at the Virginia Museum of Contemporary Art, Patricia & Phillip Frost Art Museum, Contemporary Art Center of New Orleans, Antenna, FLXST Contemporary, Page Bond Gallery, Philippine Consulate in New York, ADA Gallery, Topaz Arts, Norte Maar and Shockoe Artspace.
Roberto is represented by Page Bond Gallery in Richmond and FLXST Contemporary in Chicago. His artwork is included in collections including Capital One, Harvard Kennedy School, Atlanta Hawks NBA Team, and several private collections throughout North America, the Philippines and United Kingdom.