Rinabeth Apostol
Asian Centennial Distinguished Theater Fellow in Residence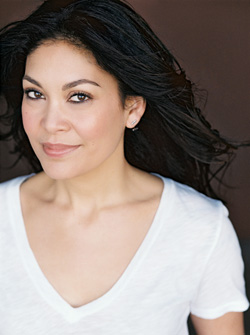 Rinabeth Apostol (she/her/siya) is an award-winning professional actor, educator, director and activist. She has appeared in theaters across the U.S., including American Conservatory Theater, Actors Theater of Louisville, Seattle Rep, TheatreWorks, California Shakespeare Theatre, The Magic, Arizona Theater Company, East West Players, Berkeley Rep and Skirball Center for the Arts, among others.
Rinabeth appears in the original cast recordings of musicals such as "Imelda: The Musical" and "The Four Immigrants: An American Musical Manga." Her offstage work ranges from television guest star roles, independent films, commercials, web series, voice over and motion capture.
Rinabeth is also a regular guest lecturer for high schools, colleges and universities where she facilitates "Intro to the Industry" Q&A sessions for BIPOC students interested in a future in entertainment as well as lectures on Race & Gender Inequity in the Arts & Media. She is a proud member of Actors' Equity, SAG-AFTRA, Ferocious Lotus Theatre Company and PlayGround.