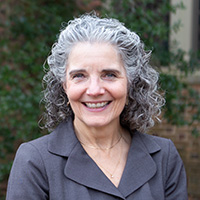 Pamela Eddy
Associate Provost for Faculty Affairs & Development
Office: Blow 215
Phone: 757-221-2349
Email: [[pamela.eddy]]

About Pamela
Pamela Eddy is the inaugural Associate Provost for Faculty Affairs & Development, a professor of higher education, and an affiliate faculty member at the Belk Center for Community College Leadership and Research. She is an expert on community colleges, leadership and faculty development. Her research helps inform policy makers, leadership development programs, and national associations on ways to center equity in college and university structures and processes. She serves as a consultant for campuses, system offices and on funded grants regarding strategies to support community college student success and to promote leadership development. Eddy has authored six books and edited six others. Her most recent book, with Betty Kirby, is titled Leading for Tomorrow: A Primer for Succeeding in Higher Education Leadership (2020). Eddy is the editor-in-chief for New Directions for Community Colleges, and serves on the editorial boards for Community College Journal of Research and Practice, Journal of Women and Gender in Higher Education, and Innovative Higher Education.  
Among her honors and recognition, Professor Eddy received the 2006 emerging scholar award and the 2013 senior scholar award from the Council for the Study of Community Colleges. She was recognized with a 2021 Outstanding Faculty Award from the State Council of Higher Education for Virginia. Additionally, Eddy received the 2011 Plumeri Award for Faculty Excellence at William & Mary. She was a Fulbright Scholar in Dublin, Ireland in 2009 and continues her research on partnerships there.   
Eddy received her Ph.D. from Michigan State University, her M.S. from Cornell University, and her B.S. in economics from Allegheny College.