And the First Annual Henry R. Broaddus Innovator Award goes too…
Katarina Bromkamp '23, founder and Executive Director of non-profit organization, First-Gen Place! Katarina's work founding a 501(c)(3) in support of fellow first-generation students is bridging the gaps and boundaries in the collegiate system that exist for first-gen students, particularly those in underserved communities. It was easy to see that Katarina met all the requirements that this award is seeking - bold action, collaborative in nature, and for the good of W&M - just like the work of its namesake, Henry Broaddus, former VP of Strategic Initiatives at W&M. We were honored to host both Henry and President Rowe to present this prestigious award.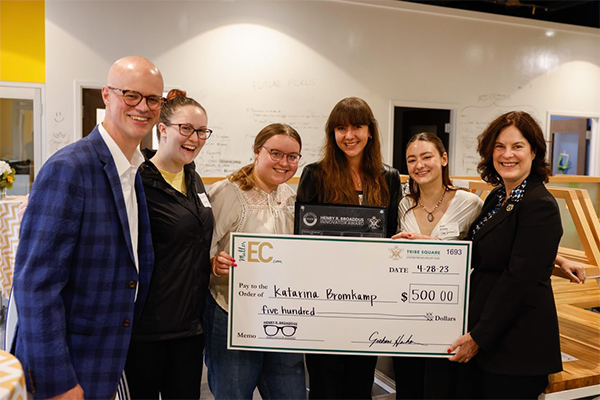 The formation of First-Gen Place is obviously just the start of the impact that Katarina and her team will have on the first-generation student community at W&M, helping their peers navigate college, from application, to graduation, and beyond and we're so excited that this award will help them continue on that upwards trajectory. The prize package includes not only $500 for First-Gen Place, but an all-expense-paid conference experience for Katarina, to the event of her choosing, which will help accelerate progress on First-Gen Place, and a dedicated alum mentor that will assist Katarina and her team through this venture's journey. If you know someone that is bold, collaborative, and working for the good of W&M, keep an eye out for next year's call for nominations for the Second Annual Henry R. Broaddus Innovator Award, at the start of the Spring 2024 semester.