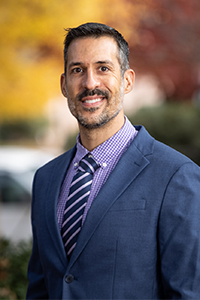 Terry Fassanella
Senior Compliance & Title IX Investigator
Email: [[tafassanella]]
Phone: 757-221-2517
Office: James Blair 111

About Terry
In October 2022, Terry was named Senior Compliance and Title IX Investigator in the Office of Compliance & Equity. Terry joined William & Mary in July of 2009 working in the office of Residence Life as an Area Director. In 2017 Terry moved over to Student Transition Engagement Programs (STEP) formerly First Year Experience (FYE), planning and implementing initiatives for new students. From August 2020 through June 2021 Terry filled an interim Director role in Community Values & Restorative Practices (CVRP) in the Dean of Students Office before during serving in an Assistant Dean role until October of 2022.
Prior to William & Mary Terry worked at Christopher Newport University, and the University of North Carolina at Charlotte. He earned a B.A. in Psychology, and a M.S. in Criminology from Niagara University, a M.S.Ed. from the University of Dayton. He is currently completing his Ph.D. from the William & Mary School of Education.      
He conducts fair, equitable and efficient investigations relating to sexual violence and sex-based discrimination. He participates in continuing education and training programs conducted by the Virginia Department of Criminal Justice Services (DCJS), Association of Title IX Administrators (ATIXA), and other trainings in Title IX matters and internal investigations.