W&M wins awards for highest voter registration, turnout rates in Virginia
William & Mary has won two awards and a Platinum Seal from the nonpartisan ALL IN Campus Democracy Challenge in recognition of the university's student voter participation efforts in the 2020 election cycle.
During the virtual Virginia Campus Voting Challenge awards ceremony on Nov. 9, the university received awards for having the highest campus voter turnout rate and the highest voter registration rate (tied with James Madison University) among all four-year institutions in the commonwealth.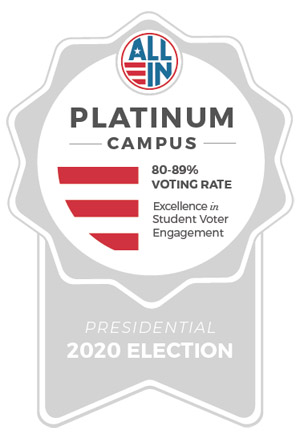 With a voting rate of 82.4% in 2020, W&M also earned a Platinum Seal, which recognizes campuses with voting rates of 80-90%. Only 47 campuses nationwide received a Platinum Seal out of a total of 495 seals presented in four categories. No other Virginia institutions received a Platinum Seal this year.
"Such recognitions are a tribute to William & Mary's history and culture being a university that promotes leadership and civic engagement," said Rich Thompson, associate director of the W&M Office of Community Engagement.
"Furthermore, these awards are testament to a lot of hard work to promote Voter Engagement on campus and in our community.  For example – students, faculty, staff, alumni and at-large members of the Voter Engagement Action Committee, the offices of the president and provost, the Student Assembly, local city and county registrars and our numerous political-oriented student organizations."
More than 840 institutions enrolling close to nine million students participated in the ALL IN Challenge, a national, nonpartisan initiative of Civic Nation, according to a press release.
The awards were determined based on data gathered as part of the National Study of Learning, Voting, and Engagement, a research study of the Institute for Democracy in Higher Education at the Jonathan M. Tisch College of Civic Life at Tufts University.
According to the latest report, W&M's voter registration rate in 2020 was 92%, and the official voting rate of registered students was 89.6%. The overall voting rate of 82.4% includes all eligible students. Those voting rates were up significantly from 2016 when W&M saw an overall voting rate of 58.9% and a registered student voting rate of 66.3%. W&M's registration rate in 2016 was 88.8%.
On average, participating universities in the ALL IN challenge saw a 66% voting rate in 2020, up from 53% in 2016.
"The rise in voter participation and engagement for college students in last year's presidential election was record-setting and will undoubtedly be tied to the efforts of the dedicated students, faculty, administrator, and partner organizations that are part of the ALL IN Challenge network," said Jen Domagal-Goldman, executive director of the ALL IN Campus Democracy Challenge, in a press release.
"Partners in our nonpartisan state voting challenges worked collaboratively and diligently to ensure that participating colleges and universities had the best information and tools with which to ensure that college students — many of whom are first-time voters — had the information and access necessary to register and cast informed ballots."
Among W&M's efforts was the formation of the Voter Engagement Action Committee by William & Mary's Office of Community Engagement. The committee, made up of students, faculty and local residents, worked throughout 2019 and 2020 to provide the campus community with non-partisan information and tools needed to vote in the 2020 election cycle.
The committee has continued its work through this year, and pre- and post-election resources are available on its website.