W&M names Rachel Bardon as 2021-22 Beales Scholar
Rachel Bardon, a 2021 graduate of Buckingham County High School, is the 2021-2022 recipient of the Harriett Pittard Beales Scholarship at William & Mary.
T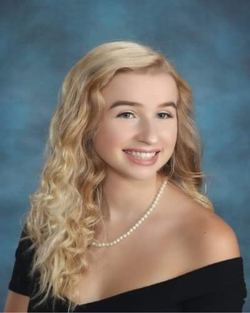 his merit-based scholarship provides tuition assistance to first-year students from South Central Virginia. Recipients are chosen based on academic performance, extracurricular community activities and service, outstanding character and other personal achievements.
One of the top students in her high school class, Bardon received an associate's degree from Southside Virginia Community College in addition to her diploma. While attending Buckingham County High School, she served as senior class president and held other leadership positions with the school's Student Council Association, 4-H chapter and Future Business Leaders of America branch. In those roles, she has earned grants for projects that benefit her local community.  
Bardon plans to major in English, and she envisions a career in the publishing industry as a writer or editor. At William & Mary, she said, she will pursue academic excellence and seek to build a network of classmates and alumni who can help her reach her professional goals. Bardon has a passion for history, and she appreciates William & Mary's respect for tradition. She is also excited about the opportunity to study in close proximity to Colonial Williamsburg. 
The scholarship honors the late Harriett Pittard Beales '34 of Boydton, Virginia who taught high school and who was also involved in service to her community of Mecklenburg County, Virginia in many ways, including mentoring young people, during the 100 years of her life. During her four years at William & Mary, she chaired the Women's Honor Council, served as vice president of the Women's Student Government and was also crowned May Queen as a senior.
Established in 1984 on the 50th anniversary of Beales' graduation by her sons, Walter Beales '66 and Randolph Beales '82, the scholarship perpetuates her love of William & Mary and her legacy of mentoring young people. The scholarship has assisted nearly two dozen entering first-year students from a region in South Central Virginia that includes 12 counties and the City of Emporia.
"My brother Randolph joins me in extending our warmest congratulations to Rachel," said Walter Beales. "We are impressed by her academic achievements as well as her commitment to serving others and her goals for the future. We wish her the best as she joins this outstanding group of Beales Scholars and look forward to celebrating her accomplishments at William & Mary."