W&M community remembers, reflects on 20-year anniversary of 9/11 attacks
When James Lynch '20 agreed to have a conversation about that horrific day, he knew exactly where he wanted to have it. 
It's difficult for him to talk about the day his father died, but it's important for him to share the heroism Robert Henry Lynch, Jr. showed on Sept. 11, 2001, and it's important to keep the memory of his father alive. 
So he willingly answered questions over the phone, recounting memories of an event that no one should ever have to endure.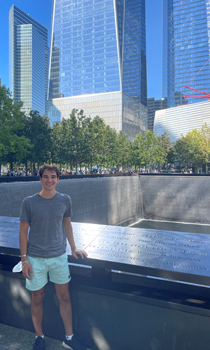 Early in the conversation, he was asked how often he visits the 9/11 Memorial in New York City, where the names of those who died in the Sept. 11 terrorist attacks are inscribed on bronze parapets around memorial pools. 
His father, a property manager at the World Trade Center, was killed that day. He is honored as a first responder for helping people escape the buildings. 
"I'm sitting there right now with one of my friends," said Lynch, who took the train from his Cranford, New Jersey home to the memorial to look at his father's name as he talked about that day. "It's sad to be here, but it reminds me of all the beauty that came out of it and bringing everyone together." 
Saturday is the 20th anniversary of the 9/11 attacks on the United States, and William & Mary will mark the occasion with commemorations to honor those whose lives were lost or affected. 
William & Mary News asked members of the university community to reflect on that fateful day. 
A father, a lifesaver
Robert Lynch's official title at the WTC was vertical transportation contract administrator. 
"It's a fancy word for elevators," James said. 
Robert was helping evacuate people from the World Trade Center's South Tower when it collapsed. He was one of 2,977 people who lost their lives in the terrorist attacks that day at the WTC in Lower Manhattan, the Pentagon in Washington, D.C., and on United Airlines Flight 93, a hijacked airliner that passengers helped bring down in Pennsylvania to prevent it from hitting another target. 
"My dad is remembered and honored as a first responder because he wasn't actually in the buildings when the first plane hit," James said. "He was actually in the courtyard outside, but he went back into the building to do what he could, helping people get out of the building safely." 
James, one of five siblings, was three years old that day. He has no memories of Sept. 11, but he has heard plenty of stories from family and friends about his father's actions that helped save lives. 
"We have one survivor's personal account, which is my dad went back in, went up to the elevators and started getting them to manually lower because once the plane hit the building, the elevators stopped," James said. "He was trying to get them manually down to the lower floors so people stuck inside would be able to go down the stairs or out the front doors." 
James has precious few personal memories of his father, but family members have helped him better understand the kind of man he was. 
Anniversaries of the horrific day have been understandably difficult for him and his family. It was particularly hard when James first came to W&M and nobody knew about his grief. But over time, he made "the best friendships of his life" at the university and felt comfortable sharing with friends and teachers. 
In fact, Tamara Johnson, adjunct instructor of theatre, messages him every year around Sept. 11 to see how he's doing. 
"That support means the world to me, for sure," James said. 
Words to unify the country
"The dark clouds of smoke that once over-shadowed the skyline of your great city have dispersed and the American flag that was raised above the rubble of what was once the World Trade Centers shines brighter than ever before." 
Those words, written by Jennifer Page Wall, were part of a message sent by the speaker of the House of Representatives to the people of New York City after 9/11. That message, along with another sent to the Pentagon, accompanied the U.S. flags that flew over the Capitol on that fateful day. 
As a communications manager for the speaker at the time, it was Wall's job to help craft the messages intended to unify the country.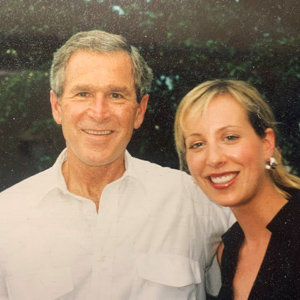 She assisted in preparations for President George W. Bush's State of the Union address on Sept. 20, 2001. She was in the House chamber that night when Bush said, "My fellow citizens, for the last nine days the entire world has seen for itself the state of our union, and it is strong." 
"Just being in the center of it all, being a part of history and shaping that history, helping to shape that messaging, helping to shape all of the communications and also to do everything you can to help move our country into a better place was and continues to be very important to me," said Wall, who later served as Press Secretary for the Select Committee on Homeland Security and is now executive director of strategic communications at W&M. 
Wall said every Sept. 11 anniversary reminds her of the fear she felt that day and how fortunate she is to be alive. 
Wall was at the U.S. Capitol when the second plane hit the World Trade Center. A short time later, she sat in an emergency meeting in a conference room overlooking the National Mall when one of the speaker's security details motioned vigorously toward the windows. A large plume of black smoke rose above the city when another plane hit the Pentagon. 
The sergeant at arms of the House of Representatives said, "We think a plane may be coming our way to the U.S. Capitol. You need to get out now." 
"We knew that this very well could be the end of us," said Wall, who quickly retreated with some co-workers to her home three blocks from the Capitol. 
As Wall sheltered in her home, a plane heading toward Washington was overtaken by passengers and brought down in a field in Pennsylvania. 
"You were just on constant alert not knowing what was next and whether or not that was going to be your last day," Wall said. "And then obviously watching everything unfold and seeing everybody who lost their lives, that was completely devastating. And hearing about the crash in Pennsylvania and knowing that those people risked their lives for your life. You can't put words on that."  
A harrowing time
David Brashear, director of W&M's Muscarelle Museum of Art, has a passion for architecture, and he has a special admiration for Michael Arad, who designed the 9/11 Memorial in Manhattan. 
"I think Arad's memorial is so moving that any time you're there, it really just projects this monumentality that's so appropriate for what happened," Brashear said. "It's a very somber place."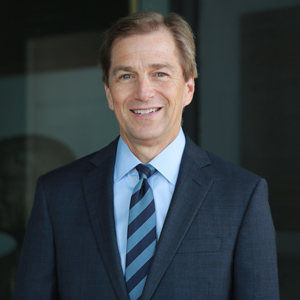 Arad spoke at the Muscarelle via Zoom in April, and some of his original drawings and a model of the memorial will be on display for a 9/11 exhibition at the Muscarelle called "Forever Marked By The Day," that starts on Friday, Sept. 10. 
Brashear said the exhibit is for reflection and remembrance, something he does often about that day. He has a very personal connection to 9/11. 
Brashear's father, James, worked at the Pentagon as an IT consultant and was in the building when it was struck by the plane. He was unharmed in the attack, but it was a harrowing few hours for his family as they frantically tried to locate him. 
David worked in Arlington at the time, and as soon as he learned a plane struck the Pentagon, he jumped in his car and headed that way. His drive didn't last long, as every major road leading to and from Washington was closed. 
"All of the bridges coming out of the city were filled with pedestrians walking out of the city into Virginia," he said. 
David parked his car and started walking, first on a pathway along the Potomac River and then on the river's edge itself. At one point, someone yelled out, "Another plane is coming." 
"I thought to myself, 'You know what, if another plane comes, I'm just jumping in the river and whatever happens happens,'" Brashear said. 
Brashear reached the Pentagon, but he couldn't find his father, and he couldn't reach him by phone. 
He immediately drove to his home in McLean, where his father was waiting safe and sound. 
"He knew a lot of the people that died," said Brashear, who also lived in New York for a time and regularly attends and photographs 9/11 anniversary commemorations. "It changed him. He is very emotional about that day." 
Entire world view
Evan Kikla '21 moved from Bahrain to the United States in June of 2001. The son of Naval officers, Kikla was in school in Chevy Chase, Maryland, during the attacks on Sept. 11, 2001. 
"I was already pretty well acquainted with terrorism," said Kikla, whose school in Bahrain was guarded heavily by Marines in hallways carrying M-16 rifles. 
Kikla joined the Marine Corps himself in 2009 at the age of 17. The events of 9/11 were a big influence on that decision.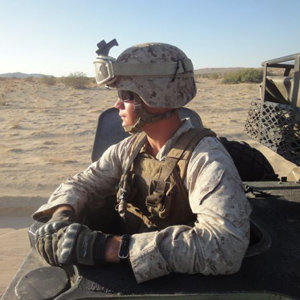 "I don't want to say it's the specific reason I joined the Marine Corps, but it almost just created the environment," said Kikla, who is currently attending medical school at the University of Colorado. 
"My personal experience of living around terrorism and being kind of near the (terrorist attacks on the) USS Cole and 9/11 and then seeing the terrorism follow me back to the States, it kind of just set the entire world view that I had that led me to the Marine Corps." 
After serving in the Marine Corps from 2009 to 2014, Kikla became a wildland fire fighter out West and then earned his biology degree at William & Mary. 
He was recently commissioned in the Navy after accepting a Navy Health Care scholarship for medical school. Upon completion of his medical degree, Kikla will return to the Navy as a physician. 
Even though he was young, Kikla still remembers many details of 9/11 very vividly. 
Kikla recalls school letting out early on 9/11 and his uncle picking him up. His mom couldn't get there in time. She was working at the Naval Annex, located near the Pentagon. 
"The plane actually flew right over her building," Kikla said. 
After the attacks, Kikla said he remembers the fighter jets guarding the airspace over Washington and nearby Maryland and Virginia. 
"You could see the missiles on those things," he said. "It wasn't routine ops, either." 
Kikla said he recalls sitting with his mom and watching Bush's State of the Union address. The same State of the Union address Wall helped plan. 
"That moment, party was all put aside," said Wall, who sat in the back of the House chamber that night facing President Bush. "We were all in that moment, and it was about what was best for this nation. Hearing that address was very moving, and it was in many ways meant to unite us, and on every anniversary, I think back on those moments." 
Consequences of the attacks
For William & Mary students like Meghana Boojala '22, the details of 9/11 were learned through family accounts, in the classroom and from the video footage and images from the horrific day. 
Boojala, W&M's Student Assembly president, hadn't yet turned 2 when the attacks occurred, and her mother was eight months pregnant with her brother.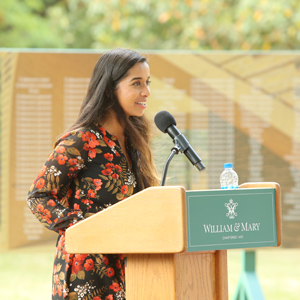 The daughter of immigrants, Boojala says, "It was a complicated time for race, as well, in the country. While my mom took the terrorist attack on America as an attack on her home, her doctor advised her to be wary of entering the hospital for pregnancy check-ups due to the rise in hate crimes against people with the color of her skin." 
While Boojala has no remembrance of 9/11, she has surely felt the consequences of the terrorist attacks. America was at war in Afghanistan for most of her life. Recently, the United States ended its 20-year occupation in the country that began shortly after 9/11. 
"I grew up thinking that our country was vulnerable," Boojala said. "The tragedy occurred right before I turned 2, and in the years that I spent learning how to read and write, the United States drastically changed its foreign policy and made the decision to raise my generation in a state of war. 
"I grew up fearing new terrorist groups and terrorist attacks. To this day, I still remember learning about ISIS with fear in my eighth grade history class." 
The country was unified in many ways by the collective patriotism that resulted from the attacks. 
"We were taught to put fear aside and embrace patriotism and bravery whenever our world seemed to be under attack," she said. "As time progressed, however, and I learned more about American military action in the Middle East, my sense of patriotism was joined by skepticism of our government's effectiveness. I have only lived in a world that encompassed the repercussions of 9/11, and as a voting citizen, I feel a collective responsibility for the ongoing tragedy in Afghanistan." 
Boojala's father immigrated to the U.S. in the '90s to get his master's in New York. On return trips to Manhattan, she says her father's eyes "automatically scan the sky to the place where the towers once stood." 
"Anytime we talk about 9/11, though, it is a conversation filled with unwavering patriotism – pain for those who lost their lives and gratitude for the first responders who risked theirs," Boojala said.