W&M board member Aponte nominated for Panama ambassadorship
Mari Carmen Aponte, a member of William & Mary's Board of Visitors, has been nominated by U.S. President Joe Biden to serve as the nation's next ambassador to Panama, the White House announced today.
The selection will be reviewed by the U.S. Senate, which has the authority to confirm such nominations.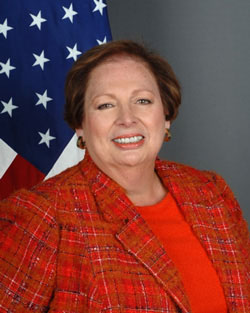 Aponte, who previously served as U.S. ambassador to El Salvador from 2010 to 2016, joined the William & Mary Board of Visitors in 2019. She is currently chair of the Committee on the Student Experience and a member of the committees on academic affairs and institutional advancement.
"Mari Carmen Aponte is a leader on the William & Mary Board of Visitors who is respected and valued among her colleagues especially in her board leadership roles," said W&M Rector John E. Littel. "She will represent the country with distinction."
Aponte currently works as a consultant for management and fundraising. She previously served as acting assistant secretary for the Western Hemisphere for the U.S. Department of State, acting as the top U.S. diplomat for Latin America.
"It is wonderful news that Ambassador Aponte has been nominated to fill this critical role in United States foreign relations," said W&M President Katherine A. Rowe. "Her vast experience as a dedicated public servant and international diplomat has brought such value and perspective to the work and discussions of the Board of Visitors, including her role as chair of the Committee on the Student Experience. William & Mary warmly congratulates Ambassador Aponte on this nomination."
Aponte also previously served as a member of the board of directors for the Oriental Financial Group, executive director of the Puerto Rico Federal Affairs Administration and a consultant and lawyer. She was also a White House fellow, assisting the U.S. secretary of housing and urban development.
An active member of the American Bar and Hispanic Bar associations, she has served on myriad committees for community and professional organizations, such as the Latino Advisory Council for the Smithsonian National Museum of Washington, D.C., the Kennedy Center Advisory Board and the National Alliance for Hispanic Health.
Aponte currently chairs the Community Capital Corporation and is a member of the the Council on Foreign Relations as well as the boards for International Association of Women Judges and the International Senior Lawyers Project.
She holds a Bachelor of Arts from Rosemont College, a Master of Arts from Villanova University and a law degree from Temple University Law School.