William & Mary Bookstore announces relocation to Triangle Building
William & Mary Bookstore, operated by Barnes & Noble College, announced today that it will relocate to a new store location in the Triangle Building, located at 601 Prince George St. ahead of the fall semester.
The current bookstore will close in mid-June with plans to reopen in the new location ahead of the fall semester. During the transition time, customers are encouraged to visit bookstore.wm.edu for course materials, W&M-branded items, alumni products and other merchandise.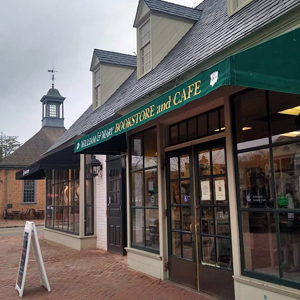 "The move reflects W&M Bookstore's continued adaptations to the sale and delivery of university textbooks and course materials while recognizing the value of in-person shopping for W&M merchandise and supplies," said Cindy Glavas, director of William & Mary Auxiliary Services.
After renovation, the new store will offer a wide assortment of W&M merchandise and gifts, as well as a limited selection of trade books. Textbooks will be available to purchase or rent online through the bookstore website. Students can choose to pick up their materials in-person or have items shipped directly to their home.
"As the campus bookstore, we want to offer the most convenient access for William & Mary students. This new location will allow us to be closer to the majority of our student population, especially those residing on the northeast side of campus, in addition to providing easy access to guests visiting campus, said Susan Lemerise, William & Mary Bookstore general manager. "Though we know this location is a change for our customers, they can be assured that — no matter where we are located — we will continue to provide the same great service they have come to expect from their William & Mary Bookstore."
As part of its updates to the new Prince George Street location within the Triangle Building, the bookstore plans to add outdoor seating for customers, and will offer free parking available to Triangle Building merchants. The bookstore will continue to run in-store programming and events.
The W&M Bookstore will join existing merchants The Bake Shop Bakery & Coffee Bar, Rick's Cheese Steak Shop and Luck Kee Hair in the Triangle Building which is located between Prince George Street, Scotland Street and Armistead Avenue.
"Prince George Street has seen impressive growth and redevelopment over the past decade," said Michele Mixner DeWitt, the City of Williamsburg's economic development director. "The bookstore adds yet another attraction to bring people to that section of downtown Williamsburg and provides an opportunity to reimagine the space on Duke of Gloucester Street."