Rigzin Dolma LL.M. '21 uses Master in Laws degree in service to her Tibetan community
The concept of dharma can be difficult to define. Encompassing duty, learning, and discovering one's correct life path, it is a guiding principle in Tibetan Buddhism. For Rigzin Dolma, who earned her Master of Laws degree (LL.M.) from William & Mary Law School in May 2021, the opportunity to earn a graduate degree at the school represented an unexpected waypost in her dharma.
As a child of 13 in India studying at the Tibetan Children's Village School in Leh, Ladakh, Dolma had already experienced discrimination and the impact of the uncertain legal status of Tibetans living in exile in India. Whenever disputes between Tibetans and Indians arose in her village, Tibetans always lost. Her sense of powerlessness only grew as she got older.
Dolma is the third of four daughters in a family of yak herders. The family lives in the tiny village of Sumdho, located on the desolate border between India and China. Despite uncertain circumstances and no clear vision of the family's future, education was prized in her home. Her mother, who did not have the benefit of a primary school education, worked two jobs to save for her daughters' education.
When Dolma came across the work of Indian jurist Bhimrao Ramji Ambedkar (1891-1956) in the eighth grade, she saw her future. Ambedkar, born into the untouchable Dalit class, is regarded as the father of the 1949 Indian Constitution. As a believer in social reform, he campaigned throughout his life against discrimination toward untouchables. He earned doctorates in economics from Columbia University and the London School of Economics and served as chair of the constitutional drafting committee. Dolma now had a role model.

She had never heard of law or lawyers, but she knew she wanted to follow in Ambedkar's footsteps. After taking every policy, economics, and social science course available at the Tibetan Children's School, she moved to Dharamsala to attend secondary school, ultimately earning a scholarship to Mysore University. There, she finally found her niche and graduated with an LL.B. degree in 2018. After clerking for the District and Session Court in Leh and then for a senior Supreme Court litigator, she was hired as a legal assistant to the Tibetan Supreme Justice Commission – the Supreme Court of the Tibetan Government in Exile.
An opportunity at William & Mary
Her improbable (and virtual) journey to Williamsburg began when she met Professor Christie Warren in February 2020 during Warren's visit to the Tibetan Supreme Justice Commission. Warren is Professor of International and Comparative Law and Director of the Center for Comparative Legal Studies and Post-Conflict Peacebuilding. After meeting Warren, Dolma applied to and was accepted into William & Mary Law School's LL.M. program. Her studies were made possible by a scholarship from the law school and generous funding from Nora Lavori and David Sterling through the Lavori Sterling Foundation, Inc.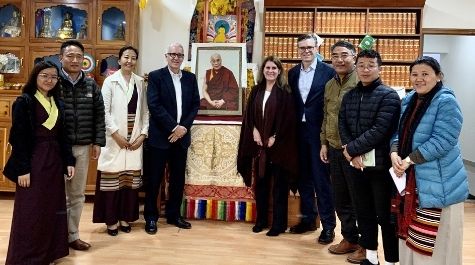 "When I first met Professor Warren in my office and she promised to help me further my education, I felt that I had nothing to contribute except my personal story and my resume," Dolma said. "When she introduced me to David and Nora, I was filled with unimaginable new hope. Without Professor Warren's belief in me and David and Nora's unwavering support, I never would have dared to dream of the possibility of receiving a degree from a world-class law school like William & Mary. The opportunity they have given me has changed my life."

Dolma's LL.M. year was fraught with challenges. Because the global pandemic forced classes to be held virtually at universities across the United States in fall 2020 and spring 2021, she had to take all her courses online from her home in Dharamsala. Different time zones meant that she had to sign on to Zoom at 9 p.m. at night and remain online until early morning, attending classes in Constitutional Law, Civil Procedure, Torts, Administrative Law, Comparative Constitutional Systems and Legal Research and Writing. She never missed a class.

"Rigzin was one of the most hardworking and determined students I have taught in the LL.M. program," says Jennifer Stevenson, Associate Dean for Graduate Programs, Director of the LL.M. Program, and Professor of the Practice of Law. "She realized the great value of this opportunity and never took it for granted."

Dolma continued to work full time during her LL.M. studies and provided legal guidance to the Tibetan Supreme Justice Commission during an especially turbulent year when several commissioners were impeached by the Tibetan Parliament. The Dalai Lama ultimately resolved the dispute.

Her capstone thesis during her studies compared the Constitution of India and the Charter of the Tibetans in Exile. She received her LL.M. degree and a Dean's Certificate in May 2021 at the age of 26.

Warren says that Dolma's talents and commitment to her community were immediately apparent when she first met her. "She had a deep intensity about her, rare in anyone her age but even less common among young refugee women growing up in marginalized communities in which opportunities for women are limited," Warren said. "It was clear as soon as I met her that she had an important path ahead of her. David Sterling and Nora Lavori made that path a reality."

Sonam Norbu Dagpo, Chief Justice of the Tibetan Supreme Justice Commission, agreed. "Rigzin's LL.M degree from William & Mary is an immense contribution not only to her, but also to the Tibetan justice system," he said. "It has already increased her competence and confidence and promises to benefit the greater Tibetan community throughout her career."