Lauren Edwards '08 leverages social media to help athletes build their brand
The following story originally appeared in the spring 2021 issue of the W&M Alumni Magazine. - Ed.
Reine: noun [ feminine ] /REn/
The pronunciation of reine, the French word for queen, should sound strikingly familiar to most William & Mary graduates.
For Lauren Murray Edwards '08, the word has many layers of significance. She and her husband, Jon, live mainly in Charlotte, North Carolina, which is nicknamed the Queen City. They also spend time in Quebec City and enjoy the quintessential FrenchCanadian culture and language there. Finally, the pronunciation of reine ties it back to the Wren Building, a landmark for every W&M student since our 1693 charter. In 2016, when it was time for Edwards to name her new company, Reine Digital was a no brainer.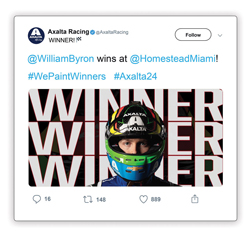 Reine Digital & Consulting is a social and digital agency rooted in strategic communications that focuses on supporting companies, athletes and personalities with their online branding and presence. Other industries represented include entertainment, spirits and fashion.
Before starting Reine Digital, Edwards worked at Octagon, a sports and entertainment marketing company, and most recently for Jimmie Johnson. For those unfamiliar with the world of racing, Johnson is a seven-time NASCAR Cup Series champion and he is considered by many to be one of the greatest drivers of all time.
"At the end of 2016, I had been with Jimmie for four years and I felt like I wanted something more, to use what I'm good at to help more people," says Edwards. "I had this conversation with Jimmie and he said, 'If you want to go for it, then start your own company and I will just become a client of yours,' which is something that never happens with athletes of his caliber."
With an opportunity like that, Edwards felt that she had to seize it.
"Owning my own business was never something I imagined. It was not in my five-year plan or even my 10-year plan. But when Jimmie gave me the opportunity, I felt like I would be crazy not to try it. Two weeks later I had a company," says Edwards.
"People knew that I did social media for Jimmie Johnson and were aware of the growth and success he had on his media platforms. Eventually, a couple people started reaching out and we started adding clients and simultaneously adding more employees. We just finished year five in January. It has been a huge learning process."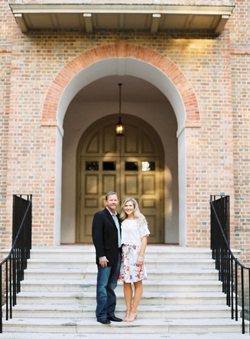 Edwards has always had a strong passion for helping athletes.
"Athletes tend to be the missing piece of the puzzle. The team or organization tends to have a social media team. Sponsors have a social media team. Brands that work with athletes have a social team. A lot of the time, the athletes themselves are left to figure it out on their own. Social media is such an incredible tool for athletes, and helping them is my passion," says Edwards.
The COVID-19 pandemic has changed everyone's world. For Reine Digital, 2020 was a very interesting year.
"Because we're so heavily focused on social and digital, we actually were busier last year than ever before, because everything else kind of went away," says Edwards. "No one could attend in-person sporting events, so there was no on-site execution, no on-site hosting, no mobile marketing, no in-arena signage."
Edwards and Reine Digital use social media as a tool to both bring in new fans and connect with existing fans.
"One of the first questions I ask every client is what are their personal goals. For some, it's followers. For others, it's conversion rates. Bringing in people is huge. I think one of the primary ways sports gain fans is through social media," says Edwards.
Unlike traditional forms of media, social media has the ability to drive real-time tune-in.
"With sports, you might not be watching a certain tournament or game, but you're scrolling through social media and all of a sudden everyone starts talking about this moment that just happened," says Edwards. "Then you might go over to the TV and turn it on because you know something exciting is happening. Now we can drive tune-in rates as the events are occurring and that's powerful."
Edwards did not always know she wanted to work in sports marketing. During her first two years at William & Mary, she was an international relations and economics major. The summer between her sophomore and junior year was her first exposure to the industry.
"My family friends owned the Pocono Raceway, and I interned with them knowing absolutely nothing about racing. I went and worked for them doing sales and marketing. I absolutely loved it. Of course, I am a fan of racing now, but before the internship, it was just something my grandfather watched on Sundays. It was so exciting, I ended up going back the next summer and at that point I added the marketing major," says Edwards.
During her time at William & Mary, Edwards was involved in service fraternity Alpha Phi Omega and social sorority Kappa Alpha Theta, and she was president of the Intersorority Council. This leadership experience, as well as developing her ability to multitask, was invaluable.
"I work in a male-dominated field," says Edwards. "Something that gives me confidence is knowing that by having a William & Mary education, I can stack up against anyone I am sitting with in a conference room or boardroom."