In season of change, new W&M students challenged to 'be builders'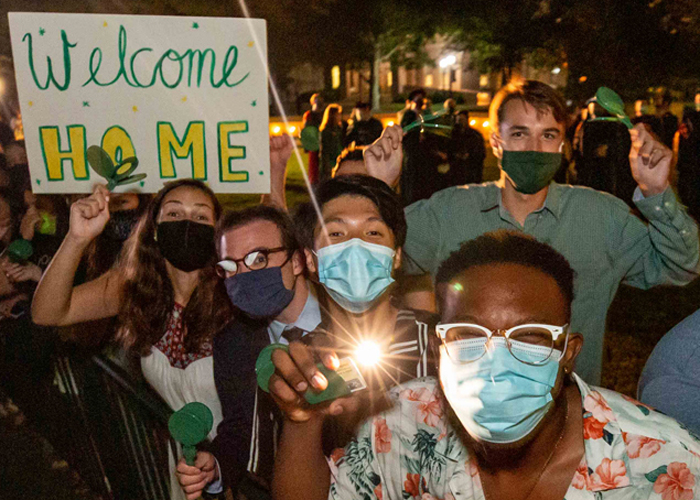 The William & Mary community returned to the Wren Yard Friday night to celebrate its traditional Opening Convocation ceremony in person again and in unique form.
With the historic Wren Building lit up in green and gold, the university welcomed new students from last year and this year and officially kicked off the 2021-22 academic year during W&M's first Convocation ceremony to take place in the evening.
"I believe that we have found out in this last year or so that it's hard to feel part of community on a video screen," Judge John Charles Thomas HON '18 said to the students from the classes of 2024 and 2025 plus transfer and graduate students who gathered in the Wren Yard Friday night for the event.
"It seems to me that the world that we live in and the spirit that we have inside ourselves require us to be able look into each other's eyes and to feel each other's presence. We are so happy that, after all of that we have been through, we have come to this point to get back to something that's more like normal."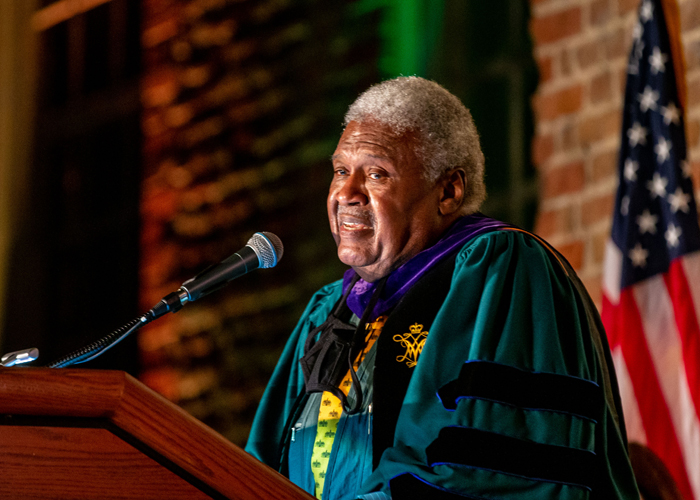 Thomas, the first Black justice appointed to the Supreme Court of Virginia and a former longtime member of the William & Mary Board of Visitors, served as the keynote speaker for the event, which aims to both welcome new students to the university and to kick off the academic year. 
While originally scheduled to take place the first day of undergraduate classes, Sept. 1, the ceremony date was moved twice due to inclement weather. Last year, the event was hosted virtually for the Class of 2024 and new transfer and graduate students, due to health and safety concerns around the pandemic. This year, with most of the campus community being vaccinated and protocols like masking in place, the ceremony was able to resume its traditional in-person form outdoors.
"In many ways, we are coming in new. The past year and a half has changed us all, and we are still changing," said President Katherine A. Rowe, adding that she is seeing students find ways to create community in the midst of challenges.
"We know that new change can be uncomfortable at some times, exhilarating at other times, and either way it takes effort," she said. "If we can manage the discomfort of uncertainty, we will create new ways of living, learning and working together."
Provost Peggy Agouris encouraged the new students to look for intersections in their academic work, which could lead them to areas of study and research they never knew existed.
"You'll take some risks with your learning, making leaps of faith and all manner of discoveries here together," she said. "And I for one am thankful for that, because there's no time to waste in tackling the great challenges in our commonwealth, our country, our world. The world needs you and your beautiful minds."
Becoming 'builders'
Being tested by such enormous challenges as COVID-19 is nothing new to the 328-year-old university, Thomas said.
"Every time we find ourselves up against a wall, we seem to be tested sorely, and we're in a war today. The fact that we're in a war against a microorganism makes this no less a war," he said, adding that the new students will help set a better course for dealing with that war.
"We believe that you will take us to a better place by what you do. We see a world that we live in now that's broken and fragmented and balkanized, and we need your power and your wisdom and your judgment to help us build a better, more united, more brought-together, more understanding place. And we believe that the diversity that is in your class, the diversity that is in this college, that diversity that is in your faculty and administrators is going to be part of what helps us do this."
Standing in front of the Wren Building as it was illuminated in green and gold, Thomas encouraged the new students to "be builders," referencing a poem by Henry Wadsworth Longfellow.
"Classmates at the College of William & Mary in Virginia, all of us here who love you already call on you to be magnificent builders in your whole life and to come back here with the things that you build and discover," he said. "We love you. We embrace you."
Celebrating service, initiative and community
During the ceremony, the classes of 2024 and 2025 were presented with banners, which were unfurled from the Wren Building balcony and will later be moved to the Sadler Center to hang until graduation.
Additionally, two members of the W&M community were honored for their commitment to service. John Cho '23 and Kelly Crace, associate vice president for health and wellness, were recognized as the 2021 President's Award for Service to the Community recipients.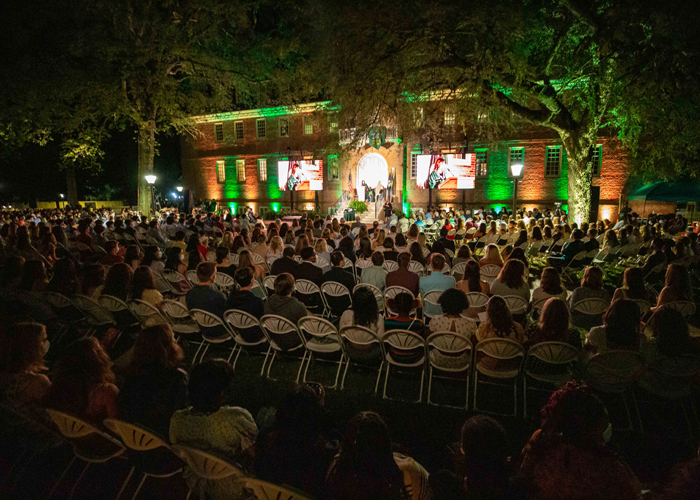 While service is a tradition at W&M, so is initiating change to advance what its community members value most, said Rowe. One such change came about through student researchers who uncovered the story of Art Matsu '27, the university's first known Asian-American student. Because of that work, the arcade at Zable Stadium was renamed in his honor last spring, and a new historical marker will be installed in his honor.
This year, the university began a commemoration of 100 years of Asian and Asian-American students at W&M, beginning with the admission of Chen Pu-Kao, Class of 1923, in 1921.
"Asians and Asian-Americans have blazed wider paths to learning here," said Rowe, adding that their stories are being revealed and shared because of student research. "So the curiosity that leads to stretching boundaries is W&M's superpower in this year of transition." 
Through the Wren
As the university continues to face the challenges of the COVID-19 pandemic, it is working to build a community of mutual support, Rowe said, one in which "we call each other in rather than calling out."
When Rowe joined the university, the Class of 2022 – freshmen at the time – introduced her to W&M with the slogan, "Join the tradition. Make history," she said.
"You join a rich tradition set by countless W&M people," Rowe told the new students. "This university is yours. You belong here. Let's make history in this historic year, together."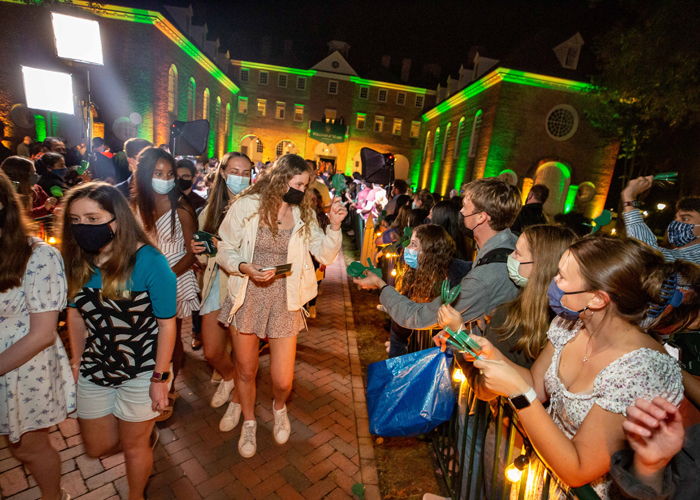 After Rowe declared the official beginning to the university's 329th academic year, the new students engaged in the traditional walk-through of the Wren Building, where they were greeted on the other side by cheers from upperclassmen, faculty, staff, alumni and community members and music from the W&M Pep Band.
Michaela Hill '22 and Claire Tyson '22 were among those who  joined the welcoming party.
"It's our senior year, and we've been stuck with COVID and dealing with protocols, so it's really nice to get back out and enjoy our last (Convocation) tradition here," said Hill. "I wasn't expecting it to be so many people at night, so it's been really fun."
Tyson, who hadn't attended a Convocation since participating as a freshman, also said that it was a fun experience.
"It is different because now that we have classes from last year participating, but hey, more people, more fun," said Tyson.
The cheering didn't end until the last of the new students had made their way through the central outdoor corridor of the Wren Building. Some students from the Class of 2024 who went through the Wren Building at the beginning of the line circled back after spilling into the Sunken Garden to join the crowd as new students from this fall filed through.
"I know that myself and so many of my peers felt grateful to be able to finally experience this longstanding William & Mary tradition," said Vicka Heidt '24, president of the Class of 2024. "Being able to actually walk through the Wren, surrounded by friends, hallmates and mentors from the past virtual year reminded me why I chose, and continuously choose, to call Williamsburg home.
"This year's Convocation was a clear representation of the active and supportive community that W&M students foster — a community that includes not just the Class of 2024, but the Class of 2025, transfers, and more."