Historical marker to honor Art Matsu '27, W&M trailblazer and 'gridiron hero'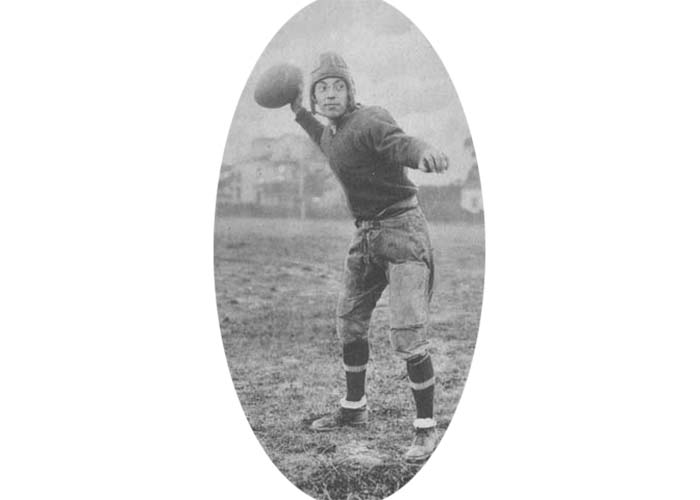 A new historical marker will honor Arthur "Art" Matsu '27, William & Mary's first known Asian American student and the first W&M alumnus to play for the National Football League – one of the first Asian Americans to do so. 
Governor Ralph Northam announced Tuesday that Matsu's marker is one of five new state historical highway markers that will highlight topics of national, state, and regional significance to Asian American Pacific Islander (AAPI) history in Virginia.
"Throughout history, Asian American and Pacific Islander communities have made significant contributions to our Commonwealth and our country, but too often their stories remain untold," Northam said in a release.
The concepts for the new markers were submitted by Virginia students through the state's inaugural AAPI Heritage Month Historical Marker Contest. Launched in May, the contest invites students, teachers, and families to learn more about Asian Americans who have made important contributions to the state's history and submit ideas for new historical markers to the Department of Historical Resources. Matsu was nominated for a marker by students from Cumberland Middle School in Cumberland, Virginia.
"The Historical Marker Contest helped me learn more about Virginians who made a big impact, like Arthur Matsu, the first Japanese-American to play in the NFL," Andrew Crenshaw, a rising 6th grader at Cumberland Middle School, said in the release. "As I researched Arthur Matsu, I learned how much he did for the sport of football and for Virginia. He played quarterback at William & Mary and coached football at several Virginia high schools, inspiring students like me to work hard and do their best."
Matsu has been hailed as William & Mary's first "true gridiron hero." A student leader and four-sport athlete, he earned national attention for his role as quarterback for the W&M football team. Active on campus, he was a proud member of the Order of the White Jacket, according to his daughter, Nancy Matsu Hulse.
Matsu went on to play in the NFL for the Dayton Triangles, and is thought to be one of the first Asian Americans — and the first W&M alumnus — to play in the NFL. He later coached football at Rutgers University, one of the first in a long line of storied professional coaches to graduate from W&M.
In April, William & Mary announced that the Arcade at Cary Field, the arched walkway at Zable Stadium that serves as its northern colonnade, will be named the Arthur A. Matsu Arcade in his honor. Matsu is one of the many trailblazers who is being recognized during the university's Asian Centennial, which kicked off this spring.
"The Asian Centennial Committee is pleased with Governor Northam's announcement of the inclusion of Arthur A. Matsu in the five historical markers honoring Asian Americans and Pacific Islanders in Virginia," said professors Francis Tanglao Aguas and Deenesh Sohoni, co-chairs of the Asian Centennial at W&M. "Art Matsu's matriculation at William & Mary helped usher in the possibility of breaking down entrenched racial barriers that prevented students of color, especially African Americans, from enrolling at the university."
They explained that research on Matsu was reinvigorated by the students who helped co-found the academic program in Asian & Pacific Islander American Studies at William & Mary, led by Anthony Elopre '08.
"We are grateful to the students of Cumberland Middle School for their nomination that made this possible," they added. "We hope this milestone event expands education and awareness on AAPI and all minoritized communities in Virginia."
The university is currently working with staff from Virginia's Department of Historic Resources to determine the text and location of the marker.