Dedicated in their honor: W&M dedicates Boswell, Willis halls
New names in honor of trailblazing alumni now grace two campus buildings. Morton Hall and Taliaferro Hall were dedicated this fall as John E. Boswell Hall and Hulon L. Willis Sr. Hall, respectively.
Boswell Hall is named for John E. Boswell '69, a recognized scholar, professor and advocate for the LGBTQ+ community. Willis Hall is named after Hulon L. Willis Sr. M.Ed. '56, a veteran, professor, karate sensei and police trainer who was the first African American student to enroll at William & Mary.
The ceremonies were a culmination of the work begun by the Principles of Naming and Renaming Working Group last year, in consultation with the Design Review Board. Based on the working group's report, President Katherine A. Rowe recommended the name changes in February and the Board of Visitors voted to approve them in April.
Boswell Hall
Boswell Hall was dedicated in a ceremony at the building on Aug. 30. Along with W&M alumni, faculty, staff, board members and students, several members of the Boswell family were in attendance, including John Boswell's brother, Wray Boswell; his sister, the Rev. Patricia Boswell, and her husband Glenn; and his cousin, James Boswell, with his husband, Chris.
"John Boswell transformed the intellectual landscape for LBGTQ+ scholars and profoundly changed our understanding of LGBTQ+ history," William & Mary President Katherine A. Rowe said during the ceremony.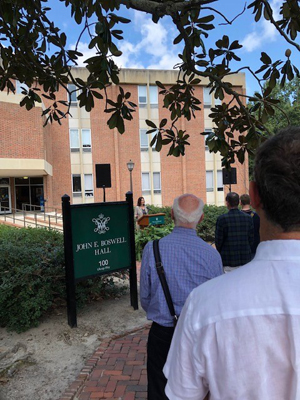 "John gives us a model for how to be reflective, how to constantly think forward, as learners and teachers. His work made it easier for the next generation to fully own their identities. It exemplifies the idea that we change in order to advance that which we value most."
The Rev. Patricia Boswell shared her memories of her brother, known to her family as "Jeb," and how his deep Christian faith motivated his social justice work. She shared that Boswell Hall almost had a different name — when Boswell was a graduate student at Harvard, he was concerned that his advocacy for the LGBTQ community would embarrass his family. He offered to his parents that he would change his name.
"Back then, having your sexual orientation found out could result in losing your job or even your life," said Patricia Boswell in her remarks. "My mother wrote that they couldn't possibly ask him to change his name, because he had 'never brought anything but honor' to it."
Now, he lends his name to the academic building that houses Gender, Sexuality and Women's Studies, the Center for the Liberal Arts, Classical Studies and many other disciplines.
"I would like to express my family's immense joy and pride in the honor that William & Mary has bestowed upon our beloved brother, as well as our gratitude," she said. "Some of the happiest days of Jeb's life were spent on this campus, and I can think of no tribute that would have meant more to him."
Willis Hall
The university dedicated Willis Hall on Oct. 9 during Homecoming & Reunion Weekend. Despite a light rain, the gathered crowd filled the sidewalk in front of the building. Also in attendance were Hulon Willis Sr.'s son, Hulon Willis Jr. '77; his daughter, Kimberley Willis Miles '80; and his granddaughter, Mica Willis '13 and her wife, Emily.
In her remarks, President Rowe spoke about the deeper meaning of renaming a dorm after Willis, the first African American student admitted to William & Mary. As a graduate student, he did not live on campus — the first Black residential students would not be admitted until 1967. Now, some of William & Mary's newest students will live in Willis Hall as part of our residential community.
"At this Homecoming & Reunion Weekend, we're coming together to celebrate William & Mary students — past students, students who are here now, and the students that we want to have come here in the future. Mr. Willis expanded the definition of who comes to study on this campus," said President Rowe.
"He paved new paths for Black students to enroll at William & Mary, and for them and others to continue to lift as they climbed," President Rowe continued, referencing a quote by civil rights and education advocate Mary Church Terrell.
Hulon Willis Jr. told a moving story about meeting a man the day before the ceremony who had worked at William & Mary since his father was a student here. Willis described his joy at seeing the building named for his father but stressed the importance of remembering "the invisible people who were part of this college, who supported us when no one else would," like the staff member he had met.
He said his father would be honored to see the building renamed in his honor and to see his family also graduate from his alma mater.
"Regardless of the challenges he faced, he took pride in William & Mary," he said.
The W&M Alumni Association's network for alumni of Black and African descent, the Hulon Willis Association (HWA), is also named for Hulon L. Willis Sr. The co-presidents of HWA, Sasha Thompson '97, M.A. '99 and Jerome Carter '12, spoke at the ceremony about carrying forward Willis's legacy as a changemaker.
"The renaming of this building serves as a reminder that this work takes dedication, it takes fortitude, it takes involvement," said Thompson. "It is a reminder that as we move forward, we must hold fast to the good, to his legacy, and bring that with us as we continue to build and grow together."
Future dedications
The university is also planning to dedicate the Arthur A. Matsu Arcade at Cary Field, the arched walkway at Zable Stadium that serves as its northern colonnade, later this academic year. The arcade is named in honor of Art Matsu '27, the university's first known Asian American student, who was also William & Mary's first well-known football player. A video about Matsu premiered during halftime during the Homecoming game, and the dedication will be one of many events as part of the university's Asian Centennial.